This past week, the first official Taliban visit to Tajikistan took place, Uzbekistan and Afghanistan discussed energy and infrastructure issues, and a major canal project worried the Uzbek government.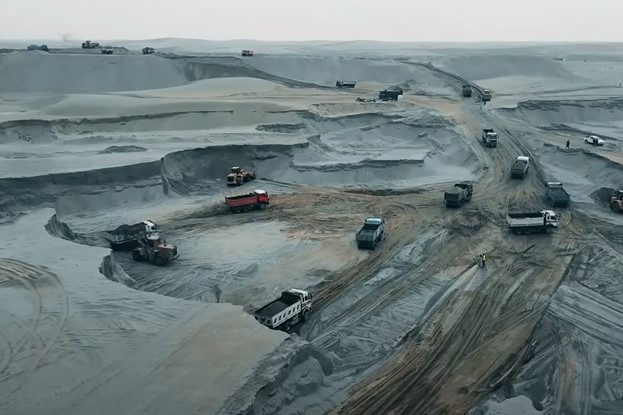 Excavation for the Qosh Tepa Canal project. Image source: Afghan government
A Taliban delegation made its first official visit to Tajikistan since the group rose to power in the summer of 2021 (Fergana). The delegation, headed by Mohammad-Musa Amiri, a bureaucrat in the Afghan Foreign Ministry, went to the city of Khorog in southern Tajikistan, the capital of the Gorno-Badakhshan Autonomous Region. There they met with officials in Afghanistan's consulate, which, interestingly enough, has still not officially acknowledged the Taliban government. Recently damaged by an avalanche, the Taliban delegation inspected the building and took note of needed repairs and necessities (Interfax). This visit is especially notable in light of Tajikistan's cold attitude toward the Taliban government. Tajikistan has refused to meet engage diplomatically with the Taliban since 2021.
The Special Representative of the President of Uzbekistan to Afghanistan, Abdulaziz Kamilov, met with the leadership of the Taliban government in Kabul (SNG FM). Present at the talks were deputy prime minister Mullah Abdul Ghani Baradar, foreign minister Amir Khan Muttaqi, minister of defense Mullah Yaqub Mujahid, as well as other officials. High on the agenda were the issues of energy agreements and various joint infrastructure projects, such as the Termez-Peshawar railroad, which will pass through Afghanistan, and the Surkhan-Pul-i-Chumri power line.
Particularly important for both sides was the discussion of the Qosh Tepa Canal project in northern Afghanistan (Eurasia Net). The Taliban has designated this canal project, which is estimated to be already a third finished, as high priority. Stretching across Balkh & Jowzan provinces, the canal is intended to provide irrigation for increased agricultural output. Uzbekistan, however, is extremely concerned about the project. Due to its location, the canal will draw water from the Amu Darya river, which demarcates Uzbekistan's border with Afghanistan. This subtraction of water could negatively impact the irrigational and agricultural capacities of southern Uzbekistan and its denizens. Taliban spokespeople, after the meeting, claimed that the Uzbekistan government is willing to cooperate with the construction of the canal; it is not yet clear whether this is the case. With the looming water crisis in Central Asia, this question could potentially grow into a thorn in the relationship between Afghanistan and Uzbekistan.