This past week, the United Nations High Commissioner for Refugees called on states to increase their contribution to a program dedicated to Afghan refugees, Uzbekistan conducted military-preparedness drills on its border with Afghanistan, and Kazakhstan's ambassador sat down with the Taliban foreign minister.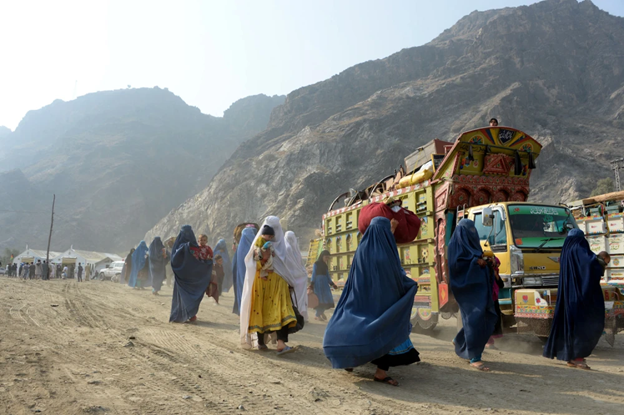 Afghan refugees. Image source: AFP
The Office of the United Nations High Commissioner for Refugees (UNHCR) asked the worldwide community of states to increase its monetary and material support for Afghan refugees living in Iran, Pakistan, Tajikistan, Turkmenistan and Uzbekistan (Radio Azatlyk). The welfare and status of Afghan refugees remain a serious concern for the Central Asia republics. Even more than forty years after the April 1978 communist coup which kicked off Afghanistan's troubles, tens of thousands of families live in refugee camps abroad. More than 5 million Afghans reside in neighboring states. There are currently approximately 15,000 Afghan refugees residing in Tajikistan alone. The UNHCR commented that although it requested $623 million from UN member states for the Afghanistan Regional Refugee Response Plan, only $321 was raised, falling far short of the goal. For the year 2023, the UNHCR hopes to provide $613 million in refugee support. This request comes on the heels of recent multilateral conferences in which Kazakhstan, Kyrgyzstan, Tajikistan, Turkmenistan, and Uzbekistan participated and affirmed their desire to continue closely cooperating with the United Nations on Afghanistan.
Uzbekistan conducted military exercises outside of the southern city of Termez, a transportation hub and primary border crossing with Afghanistan (President of Uzbekistan). The office of the president of Uzbekistan, Shavkat Mirziyoyev, released a summary of the exercises, emphasizing that serious organizational changes have been made inside the Uzbek military, and that new tactics and weapons, such as drone systems, are being implemented. President Mirziyoyev was present in an observational capacity. The location, near the border with Afghanistan, no doubt indicates Uzbekistan's concern with the inability of the Taliban government to curtail the operations of IS-K, the Islamic State franchise in Afghanistan.
The ambassador of Kazakhstan to Afghanistan, Alimkhan Yesengeldiev, met with Taliban minister of foreign affairs Amir Khan Muttaqi in Kabul to discuss the ties between the two countries (Eurasia Daily). The Taliban government is keen on developing connections not only with its immediate neighbors, but with regional powers like Kazakhstan as well. Kazakhstan, for its part, has been a leading voice in Central Asia for humanitarian outreach to Afghanistan since the 2021 collapse of the previous government. Yesengeldiev reportedly shared with Muttaqi that the sum of trade between Kazakhstan and Afghanistan has recently more than doubled.