This past week, Taliban negotiators settled with Russian, Iranian, and Pakistani companies on an infrastructure project consortium, concerns about the smuggling of grain from Kazakhstan to Afghanistan were raised, and the CSTO commented on its attention toward terrorism emanating from Afghanistan.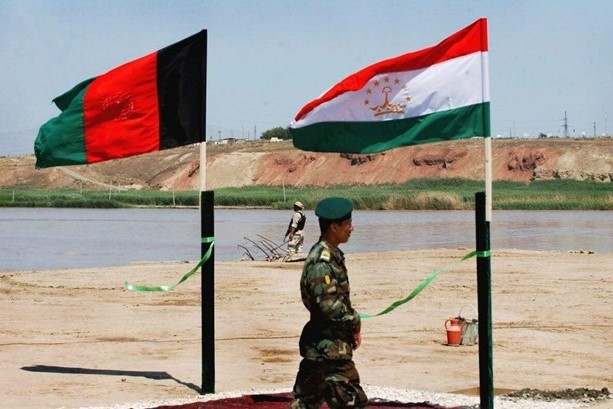 At the Afghanistan-Tajikistan border. Image source: Liter.kz
In another move to develop its energy sector and create new avenues for growth and dialogue with international benefactors, the Taliban government of Afghanistan concluded a preliminary memorandum with companies from the Russian Federation, as well as Iranian & Pakistani firms (Reuters). The purpose of the memorandum is to create a consortium of corporations for the development of power and natural resource extraction infrastructure inside Afghanistan. A news agency based in Kazan, Tatarstan, reported that the Republic of Tatarstan is interested in providing contractors and material support for the construction of coal power facilities (Kazan First). Alongside energy infrastructure, the Afghan government would like the consortium to explore projects like the construction of more tunnels beneath the Salang Pass, connecting Kabul to northern Afghanistan, and the restoration of construction on the Kabul-Herat highway. Despite the Taliban being a state-designated terror group in the Russian Federation, the Kremlin still seeks to maintain a working affiliation with Afghanistan, as security in Central Asia is a crucial concern.
Afghanistan is one of the chief purchasers of illegally sourced – so-called "gray" – grain from Kazakhstan each year (Informburo). This smuggled grain, primarily wheat, crosses the border from Russia into the northern provinces of Kazakhstan, centered around Pavlodar in the east and Aktobe in the west. The estimated profit from this smuggling is more than US$ 2 million annually. Even before the collapse of the Islamic Republic in the summer of 2021, Afghanistan struggled with sourcing enough food for its population. With the advent of the Taliban government, purchasing smuggled foodstuffs has become a necessary measure for many Afghans. The other destinations of wheat are Uzbekistan and Tajikistan.
Security on the border of Afghanistan with Tajikistan, Uzbekistan, and Turkmenistan remains forefront in the preparations and planning of the Collective Security Treaty Organization (Nezavisimaya Gazeta). This week the Chief of the Joint Staff of the CSTO, General Anatoly Sidorov, commented on the situation developing in northern Afghanistan, especially along the mountainous border with Tajikistan. "The main danger in Central Asia comes from Afghanistan, more precisely, extremist groups entrenched there, including ISIS and al-Qaeda," he stated. Tajik president Emomali Rahmon often uses the settings of summits and talks with Russia to advocate for increased intention to the possibility of Islamic State Khorasan militants destabilizing the region. Thus far, the Taliban government has been unable to completely curtail the activities of other extremist groups on Afghan territory.