This past week, Russia, the Central Asian republics, China, Iran, and India met in Moscow to discuss Afghanistan's future under the Taliban, Russia announced its intention to invest in Afghan energy infrastructure, Abkhazia reached out to Afghanistan, and Uzbekistan and Afghanistan's railroad authorities signed a new contract.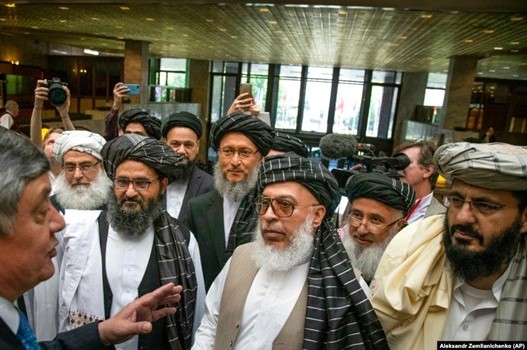 Taliban delegates at a previous meeting of the "Moscow Group" on Afghanistan. Image source: AP
Russian President Vladimir Putin and representatives from Kazakhstan, Kyrgyzstan, Tajikistan, Uzbekistan, Turkmenistan, China, Iran, and India met in Moscow on Wednesday, February 8, to discuss political & humanitarian concerns regarding Afghanistan (Radio Ozodi). During the meeting, particular attention was paid to security concerns and the lack of an inclusive government. No Taliban envoys were present at the meeting, despite the Taliban government's desire to be included in the talks. Ajit Doval and Ali Shamkhani, national security bureaucrats in the Indian and Iranian governments respectively, expressed worry that the Taliban's failure to establish an inclusive government will inevitably lead to another outbreak of conflict in Afghanistan. Russia and the Central Asian republics addressed the problem of terrorism emanating from Afghanistan. Pakistan, a member of the group, chose not to send a representative; sources close to the decision-making suggest that Pakistan's absence was due to the participation of India, its political and regional rival (VOA). This meeting was the fifth of its kind since the conference's inception in 2017. Taliban representatives were present at the first three meetings, but not since have they attended.
Earlier this week, around the same time as the meeting in Moscow, Russia's Ambassador to Afghanistan Dmitry Zhirnov announced that the Russian government had signed a memorandum in Kabul, indicating its intent to build a thermal power plant in northern Afghanistan (Kommersant). Whether this infrastructure project will be continued remains to be seen, as concerns about Afghanistan's security continue to proliferate.
The Republic of Abkhazia, a partially recognized state in the territory of Georgia, announced on Thursday, February 9, that it intends to pursue diplomatic ties with the Taliban government of Afghanistan (Eurasia Daily). Inal Ardzinba, the Minister of Foreign Affairs, commented that "Abkhazia is ready to build a mutually respectful dialogue with the unconditional participation of Russia. We hope that the situation in your country will stabilize. This is important for the entire system of regional security. Representatives of Afghanistan in Russia visited the capital city of Sukhumi to meet with Abkhazian officials. Likewise, a delegation from Abkhazia will soon visit the Afghan capital city of Kabul on a fact-finding mission. Abkhazia was created out of the 1992-93 conflict in which the Russian Federation intervened on its behalf against the Georgian government in Tbilisi.
The Afghanistan Railway Authority and the Uzbekistan Temir Yollari announced on Sunday, February 12, that they reached and finalized an agreement to resume the operations of the Hairatan-Mazar-i-Sharif railroad, which connects Afghanistan and Uzbekistan (NUZ UZ). Last week, traffic was temporarily halted due to mutual accusations by both parties of breaches of the previous contract, but later resumed. Uzbekistan has now agreed to administer the railroad for a period of two years.