This past week, media outlets have been paying attention to interregional trade in Central Asia, as well as new opportunities for bilateral cooperation between Kazakhstan and Türkiye, highlighting the strategic importance of the creation of new transport and logistics routes to diversify and ensure reliable chains of supply and production. Attention was also paid to the German-Kazakh Business Forum, Kyrgyzstan's Energy problems, and the rising tension between Afghanistan and Pakistan.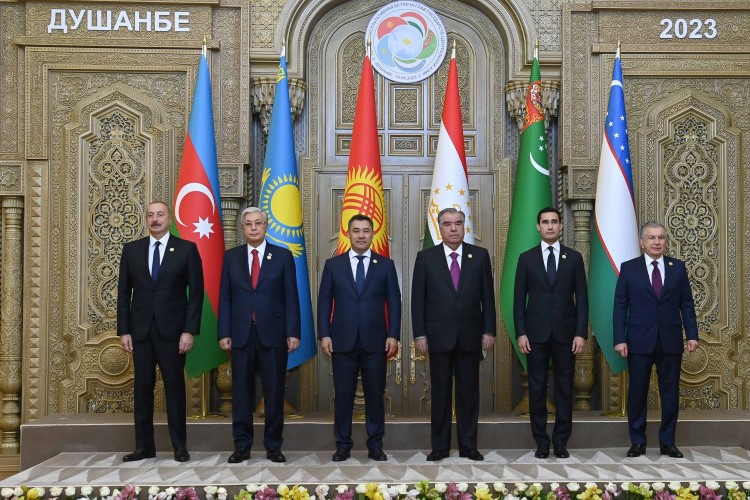 The 5th Consultative Meeting of the Heads of States of Central Asia. Source: Akorda
The five Central Asian heads of state of met in Dushanbe, Tajikistan, on September 15 to confer on interregional commerce. Kazakhstan's President Tokayev mentioned during the meeting that in the past five years, intraregional commerce increased by an astonishing 80% to $10.6 billion. President Tokayev expressed hope that the five countries may increase their trade turnover to $15 billion in the near term (Astana Times; Office of Kazakhstan's President). Kazakhstan's trade relationship with Uzbekistan is especially significant, making up more than 60% of its total trade with Central Asian countries. While importing cotton, textiles, and agricultural items, Kazakhstan mostly exports wheat, oil, and metal products to Uzbekistan. Three documents were signed at the 5th Consultative Summit of the Heads of State of Central Asia (Kaz Inform; Kazakhstan Today). The documents signed include the Treaty on the Enhancement of Land Transport Interconnectedness, and a multilateral treaty between Kazakhstan, Kyrgyzstan, Tajikistan, Turkmenistan, and Uzbekistan on youth policy.
Türkiye's Foreign Minister Hakan Fidan and Kazakhstan's Deputy Prime Minister and Foreign Minister Murat Nurtleu met on September 11 to explore measures to strengthen their strategic alliance (Astana Times; Qaz Monitor; Ministry of Foreign Affairs of the Republic of Kazakhstan). The ministers emphasized that investment volume has been steadily rising, as seen by the $4.7 billion Türkiye has pumped into Kazakhstan over the past 13 years and the $1.2 billion invested in the Turkish economy. More than 4,000 companies with Turkish capital are successfully operating in Kazakhstan and generating profits exceeding $27 billion. Nurtleu cited a record-breaking amount of $6.3 billion in bilateral commerce between the two nations last year, noting that Türkiye has moved up to become Kazakhstan's fourth-largest commercial partner, behind Russia, China, and Italy.
On September 11, the German-Kazakh Business Forum brought attention to the growing global interest in Chinese exports to Europe via Kazakhstan. Currently, Kazakhstan is the route taken by more than 80% of commodities that are produced in China and Central Asia. Given this context, the Trans-Caspian International Transport Route has a growing significance on the map of continental commerce (Astana Times; Kaz Inform; Silk Road Briefing). The flow of goods increased by 64% in the first six months of this year, doubling from the previous year to over 1.7 million tonnes. The objective for this year is to increase the flow of commodities along the route to 10 million tons in the mid-term.
In a report by 24 KG, Kyrgyzstan's Energy Minister Taalaibek Ibraev highlighted a significant energy deficit in his country, potentially reaching 3.2 billion kilowatt-hours this year. Additionally, the Minister conveyed that Kyrgyzstan's projected energy consumption for this year stands at approximately 17.4 billion kilowatt-hours. In response to the critical shortage, the nation secured agreements to import 1.6 billion kilowatt-hours of electricity from Turkmenistan and another 1.5 billion kilowatt-hours from Kazakhstan. Moreover, an arrangement has been established with the Russian company Inter RAO to acquire extra electricity. As the gravity of the situation deepens, the Kyrgyzstan government has taken decisive actions to curb electricity consumption (24 KG, Sputnik). Among these measures is the mandatory restriction on citizens to refrain from turning off their heating during peak load hours. The Ministry of Energy has emphasized that failing to adhere to this directive could lead to nationwide electricity shortages. However, it's important to note that this ban will not be enforced for households solely reliant on electric heating without access to central or gas heating alternatives. Many homes fall into this category and necessitate uninterrupted electrical heating during the specified hours (24 KG).
Shifting focus to Afghanistan, Pakistan's Ministry of Foreign Affairs has formally accused the Taliban of engaging in unauthorized construction within Pakistan's borders, a clear infringement on the country's sovereignty (Afghanistan Times, Khaama). As per Pakistan's reports, Taliban forces launched an assault on the country's military posts, resulting in significant damage to infrastructure at the Torkham Border Terminal. Pakistan has voiced worry about the surge in militant attacks, urging the Taliban to prevent Afghanistan from becoming a hub for fighters. The closure of the Torkham border control followed a skirmish, leaving both cargo-filled trucks and travelers stuck. The Taliban opposed the closure, alleging a Pakistani assault close to the border (Afghanistan Times). The state tension heightened when Afghanistan's Central Bank announced a ban on the usage of Pakistan's currency (Khaama). According to the statement, starting from the mentioned date, any transactions involving alternate currencies will be considered unlawful, and those in violation will face legal consequences.