This week, the media paid attention to President Tokayev's new economic plan which calls for Kazakhstan to develop rare earth metals as the country's 'new oil' and in-turn double the country's economy by 2029, launch of a project for building a desalination plant in Karakiya district which could alleviate the region's rising need for water, Italy and Kazakhstan deepening cooperation in mutual trade and investment projects, leaders in Tajikistan and Turkmenistan receiving Japanese leaders to discuss cooperation on education, economic growth, and environmental issues, and concerns of food scarcity deepening in Afghanistan as the World Food Program slashes aid to the country.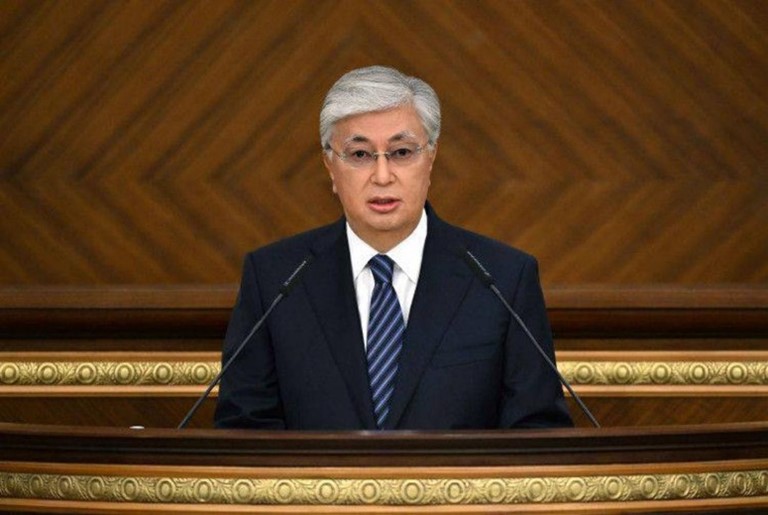 President Tokayev introduces his new economic plan during the 'state-of-the-nation' address (Source: MFA of Kazakhstan)
The Blueprint of Kazakhstan's President Tokayev's new economic strategy addresses the rare earth mining industry, agriculture, and food processing, and has received major attention in the media during the last week. In his address to the nation on September 1, Kazakhstan's President Tokayev outlined his ambitious plans for reforms. He targeted stable economic growth of 6-7% and a goal to double the country's economy to $450 billion by 2029 (Astana Times). Having previously criticised Kazakhstan's economists for their lack of innovation and inadequate comprehension of Kazakhstan's economic aspirations, Tokayev emphasised the importance of creating a strong industrial framework in order to attain economic self-sufficiency (Astana Times; The Geopolitics; Office of Kazakhstan's President). According to the President, the rare earth minerals industry must become the 'new oil' in Kazakhstan. To boost foreign investment, Tokayev pledged that the Kazakh government will exclude local and foreign parties investing in this industry from paying taxes. The President also urged the agriculture and food processing industries to increase their output of processed products, instead of raw agricultural produce. Within the following three years, his aim is to have these higher value processed goods make up 70% of total agricultural output. Although President Tokayev's initiatives to promote greater economic diversification are to be commended, Kazakhstan's heavy reliance on oil continues to be a major obstacle to the country's sustainable economic growth.
In other news, a joint declaration issued on September 5 by Kazakhstan and Italy indicated their commitment to further their shared collaboration and explore new avenues for trade and economic cooperation (Astana Times; Kaz Inform; Kazakhstan Today; Qaz Monitor). Noting the importance of developing new technologies and expanding trade, Kazakhstan's PM Smailov added that his government plans to expand exports to Italy in 110 commodities valued at over $900 million (Astana Times). Both parties acknowledged a 54% increase in mutual trade, which totalled $14.9 billion last year. They also acknowledged the effective completion of important investment projects in Kazakhstan involving Italian companies, including the construction of a wind farm in the Aktobe Region and the manufacturing of tractors and combine harvesters in the Kostanai Region.
Further away from the capital, KazMunayGas (KMG) started work on a new desalination facility on September 4 in an effort to meet the region's rising demand for drinking water, (Astana Times; Kazakhstan Newsline). The seawater desalination plant, located in the Tokymak area of Karakiya district, will have a daily capacity of 50,000 cubic meters. Once completed, the facility is anticipated to fully satisfy Zhanaozen city's drinking water requirements, a region where water demands are rising because of population expansion and the emergence of new businesses. By the end of 2024, construction should conclude, and by the spring of 2025, the facility should be operating at full planned capacity.
Elsewhere in the region, President Emomali Rahmon of Tajikistan warmly welcomed the President of the Japan International Cooperation Agency (JICA) to Dushanbe for a high level meeting. During their discussions, the two leaders addressed a wide range of important topics, including environmental challenges, job creation, and the enhancement of exports between their respective nations, among other matters (Asia Plus). However, the main focal point of their meeting revolved around education, and a ceremony was held in Dushanbe to sign the grant agreement for the "Human Resource Development Scholarship Project." (Sputnik). The project will provide Tajikistan with a grant of 276 million Japanese yen ($2 million USD). Furthermore, Japan's Extraordinary and Plenipotentiary Ambassador and the Director of Tajikistan's school No 19 took part in a ceremony marking the construction of a school in Chormagz village (Asia Plus). A grant totalling $90,347 has been allocated for the execution of this project.
Similarly, the Deputy Minister of Foreign Affairs of Turkmenistan held a meeting with the President of Japan's University of Tsukuba during the latter's official visit to Ashgabat (MFA of Turkmenistan, Orient). While the two countries have already established means of collaboration in science, education, and Japanese language studies, the Orient reports that Turkmenistan's President Berdimuhamedov has expressed his support for further enhancing these ties through high-level agreements that can create a valuable opportunity in higher education and personnel training. This includes the engagement of Japanese experts to teach at Turkmen universities, facilitating internships, and fostering the exchange of expertise among specialists.
Finally in Afghanistan, The World Food Program (WFP) has announced a reduction in food aid provided to the country. This will add approximately 2 million additional Afghanis in urgent need for food assistance , a dire situation that already affects approximately 10 million individuals (TOLO News, Afghanistan Times). The WFP cited a significant funding shortfall, thus limiting its capacity to offer emergency assistance to only 3 million people. Raising concerns about an impending "catastrophic" winter, the WFP's Country Director stated that the organization now has to make a choice between those who are hungry and those who are starving. According to reports from Khaama and Ariana News, a staggering 90% of remote regions in Afghanistan are at risk of being deprived of food aid.