This past week, Kyrgyz President Japarov divided the country's public opinion with a controversial meeting; more assaults were reported against Kazakh journalists ahead of the upcoming elections, while government officials vowed not to repeat the recent gas shortages, a helpful analysis of Uzbekistan's potentials and efforts toward a green economy was published; and very little change was seen at the UN General Assembly, a year into the war in Ukraine.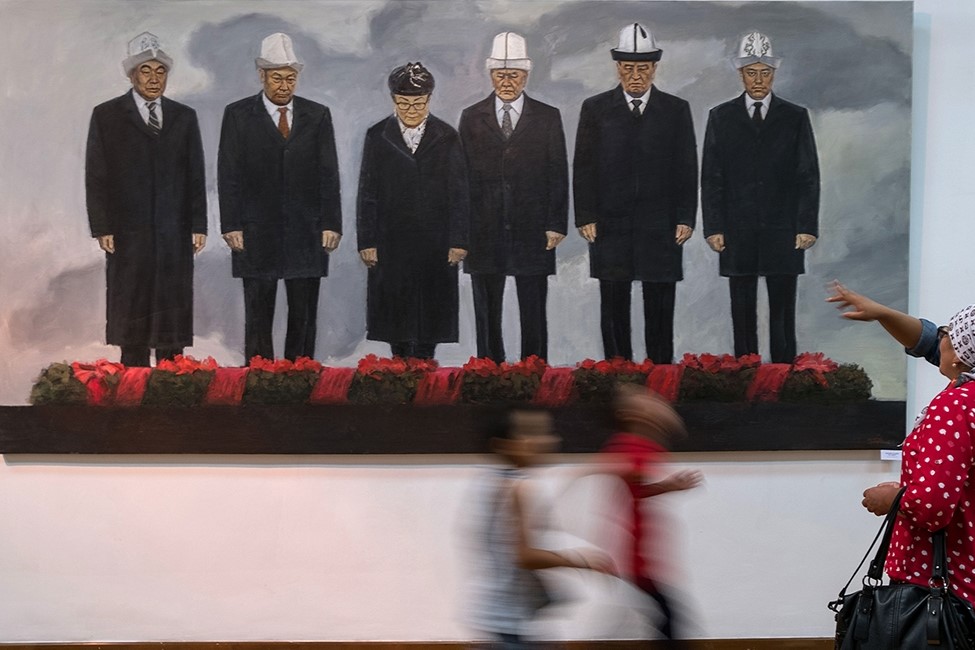 Painting by Taalaibek Usubaliev of the former and current Kyrgyz presidents. Image source: Eurasianet
Kyrgyzstan's President Japarov surprised everyone last week by revealing that he had "sat at a table with all former Presidents of Kyrgyzstan" (Eurasianet). According to him, the idea was to bring unity to the country. As first President Akayev was granted permission to return to Kyrgyzstan in January 2022, and fourth President Atambayev was released from prison last week, it appears that Japarov is attempting to engage Kyrgyzstan's troubled political history in a general reconciliation. However, some state officials and members of the public may be hesitant to see the current president meet with second President Bakyev, who is still serving a life sentence in prison for corruption and his role in the deaths of protesters during the 2010 uprising.
At the beginning of the week, two independent Kazakh journalists were consecutively attacked according to an RFE article. On Monday, two cars belonging to cameraman Roman Yegerov were set on fire, and two days later, Daniyar Moldabekov was hit in the jaw on his way home by a man who allegedly ordered him not to "stick his nose where it doesn't belong". Several other attacks were reported earlier this year, as Kazakhstan prepares for early parliamentary elections.
Meanwhile, Kazakhstan's Energy Minister, Bolat Akchulakov, spoke about plans being drawn up to import gas from Russia and provide for areas in the east of Kazakhstan, which suffered shortages this winter (Eurasianet). The associated infrastructure would thus be part of a transnational pipeline running from Russia to China. According to QazaqGaz data and estimates, gas consumption in Kazakhstan will likely double by 2030. Officials say that consumers need to be trained toward more parsimonious usage.
Based on an August World Bank report, The Diplomat attempted to decrypt the challenges and opportunities of Uzbekistan's transition to a green economy. Water and energy use efficiency appear to need to be improved, as they are significantly lower than in similar countries. Other priorities include improved air quality and sustainable land use. In its transition to a market economy, Uzbekistan is committed to implementing the 2030 Agenda for Sustainable Development.
Friday 24th of February marked an entire year of war in Ukraine, and the UN General Assembly voted on a resolution similar to the one voted on on March 2nd (Al Jazeera). The positions of key actors such as India and Iran, as well as Central Asian countries such as Kazakhstan, Kyrgyzstan, Tajikistan, and Uzbekistan, remained unchanged, and the Turkmen delegation did not participate. However, Nicaragua and Mali – which abstained last year – opposed. Meanwhile, China suggested a controversial 12-step Peace plan, which was welcomed by Antonia Guterres' Spokesman and criticized by Josep Borell, while Ukrainian President Zelensky says he is "awaiting details".
Next week, US Secretary of State Antony Blinken will make a trip to Central Asia and India.