This past week, former Kyrgyz President Atambayev was released from prison and flew to Spain, while the Nazarbayev family's life-long immunity was revoked, a Moscow-led think tank attempted to rank Russia's neighboring countries in terms of friendliness, and the CSTO chief staff announced that the upcoming military exercises will be held in Kyrgyzstan. Elsewhere, the EIB's declarations shed light on its Central Asian strategy, and the UN Working Group on Arbitrary Detention called for the immediate release of an Uzbek blogger.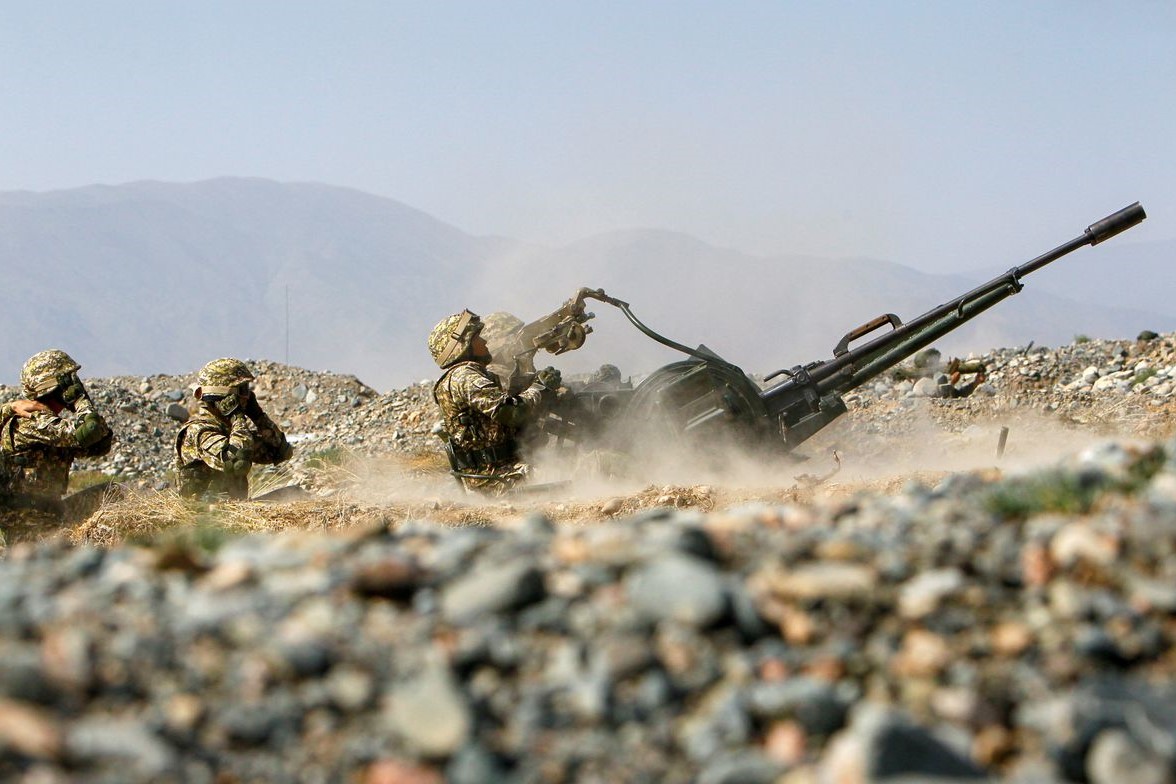 Kyrgyz Servicemen take part in CSTO Military Drills Sep 2021. Image source: Reuters
Last Sunday, some figures were published on the European Investment Bank's activity in Central Asia (Trend.az). According to the bank, it has developed a diverse and fast-growing portfolio in the region with around 1 billion euros in approved projects, and a total of 863 million euros already signed loans. For comparison, China has invested just over €10 billion in the region. Having already provided support on the East-West corridor in South Caucasus and invested in sustainable projects in Central Asia, the EIB is now focusing on the Trans-Caspian Route, as part of the European Global Gateway Strategy.
In Kazakhstan, the week began with a setback for the family members of Kazakhstan's former President Nursultan Nazarbayev, which were deprived of a life-long immunity (Astana Times). After being voted on Monday, the bill was signed into law by Kazakh President Kassym-Jomart Tokayev, notably in accordance with a June 2022 nationwide referendum that removed Nazarbayev's name from the constitution and approved the cancellation of his status as "Elbasy". This is one of a series of moves from Tokayev to push his predecessor further into the background since the beginning of 2022.
On February 14th, chief staff of the Moscow-led Collective Security Organization (CSTO) Anatoly Sidorov said that Kyrgyzstan had volunteered to host the Indestructible Brotherhood drills later this year (Reuters). Last month, Armenia said that it would be unreasonable for it to host the drills as originally planned. In October 2022, Kyrgyzstan had also canceled CSTO military drills without further explanation.
As opposed to his Kazakh counterpart, former Kyrgyz President Almazbek Atambayev saw the week's events turn in his favor (The Diplomat). Originally convicted in June 2020 and sentenced to 11 years in jail on corruption charges, Atambayev recently won his appeal to the Kyrgyz Supreme Court, which annulled the verdict on Monday. Shortly after, while embroiled in other cases, he was authorized to leave the country to seek medical treatment. He reportedly flew to Spain on Wednesday. Some analysts believe Atambayev's release softens Sadyr Japarov's image in a time of reinforced repression and economic hardship.
On Thursday, Radio Free Europe and a couple of other newspapers commented on a study earlier published by the Kremlin-linked think tank National Research Institute for the Development of Communications. The study aimed at rating Russia's neighboring countries according to the friendliness of their communication regimes. It is also a good indicator of how Russia acknowledges the attitude of its neighbors regarding last year's events. For instance, the fact that Kazakhstan, which was in the lead last year, fell back to 4th place, reminds us of the recent communication disputes about a humanitarian Yurt sent to Ukraine or an article from Arbat.media.
Finally, on Friday, an opinion of the United Nations Working Group on Arbitrary Detention calling for the immediate release of Uzbek blogger Otabek Sattoriy was relayed by The Diplomat. Following Sattoriy's sentence of 6.5 years in May 2021 for extortion and libel, a petition was issued, arguing that Sattoriy's imprisonment was arbitrary. The UN Working Group agreed in its opinion with the petition that there was no legal basis for Sattoriy's detention, and that it rather was the consequence of his right to expression. The Uzbek government has not responded in any way.