This week, a labor strike against a Chinese company occurred in Kazakhstan, demanding better pay, an article was published examining China's growing academic assertiveness, Kazakh parliament passed a law that would curb internet freedoms and could shut down social media platforms, and local Russian and Kazakh officials held talks about building a port on Irtysh river, which could provide access to China.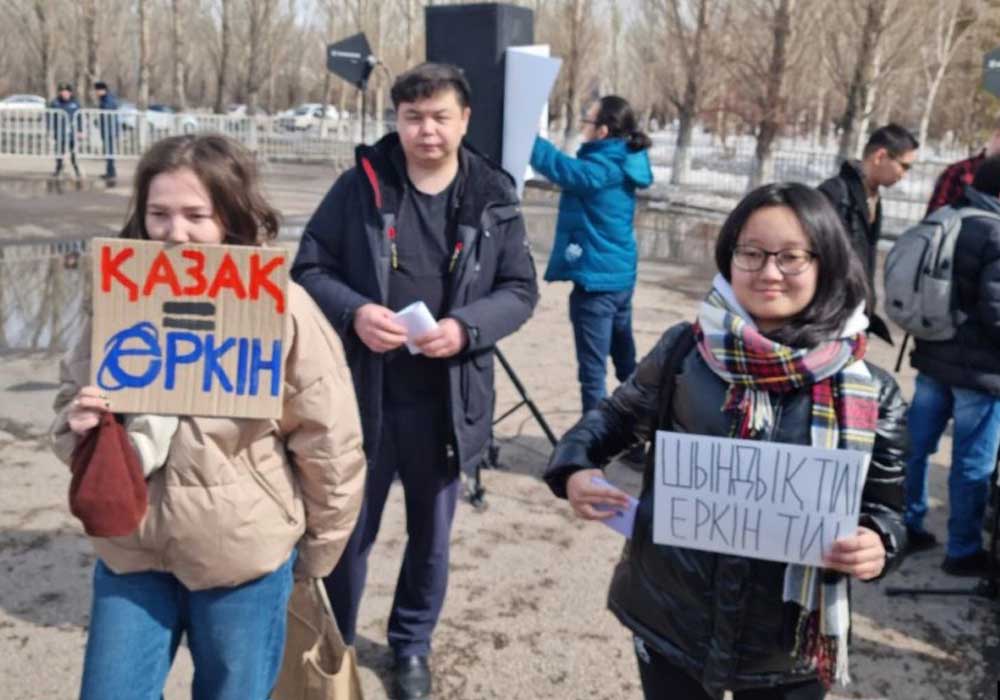 Image source: RFE/RL
A hundred construction workers in Kazakhstan went on strike, demanding better pay and adequate work clothes from their Chinese employers (Eurasianet). The strike is one of many that occurred across Kazakhstan since the January unrest. In this instance, road workers went on strike for better wages, and law enforcement sided with them, with the risk that labor inspectors might become involved. The January unrest made Kazakhstan less attractive for Chinese investment, a fact that threatens the Kazakh government which has gone to considerable lengths to attract it. However, Chinese investment is not popular among the common folk. In 2016 a land reform that would have allowed Chinese entities to rent Kazakh land for up to 20 years sparked protests across the country. Considering that Kazakhstan is a central lynchpin of the Chinese Belt & Road Initiative, the growing labor unrest poses a significant threat to China's geopolitical ambitions.
An article by The Diplomat has examined the Chinese academics' newly-found habit of increasingly speaking out in favor of China's model of governance. The article breaks down how Chinese scholars are more and more publishing in English to reach a wider audience, especially in the developing world. The scholarship is partly coated in "Chinese exceptionalism", citing China's status as a great power but also highlighting the need for Chinese viewpoints in academic discussion of Chinese affairs, both foreign and domestic.
A bill potentially curbing internet freedoms is passed in Kazakhstan (RFE/RL). The bill is targeted at cyberbullying, but experts fear that its vague wording would allow government regulators to silence dissidents online. The bill still has to be signed by President Kassym Jomart Tokayev before it becomes law. This is likely a consolidation of power by Tokayev, who saw the internet being used to coordinate and propagate protests across Kazakhstan in January this year. As experts have noted, laws on "inciting civil discord" which were used to jail dozens of activists in the past, were also vaguely-worded. Furthermore, this bill requires social media platforms to set up offices in Kazakhstan, or be blocked. This would afford Kazakh authorities greater control over social media platforms.
Local Russian and Kazakh officials are discussing building a port on the Irtysh river that stretches to China (Russia Briefing). The Irtysh River flows from China, through Russia and Kazakhstan into the Arctic ocean. The talks were held between the Russian Omsk region and Kazakh Pavlodar region officials. The project, if implemented, would expand shipping along the Irtysh river from timber to other goods. This project has several geopolitical implications; First, it would expand the Chinese BRI network through the two countries and diversify transport routes. Second, it assists Kazakhstan in balancing Russian and Chinese interests in the region in what it calls its "Multi-Vector Diplomacy". Lastly, for Russia, it represents an investment into the future where the Arctic ocean thaws due to global warming, which would make Russia much less dependent on warm-water ports.