This past week, Georgia, Azerbaijan and Kazakhstan got together to work on opening a new trade route to Europe, a rally condemning Russia's invasion of Ukraine was held in Almaty, Kazakhstan's largest city, and Russia's Sberbank started to try and fill the gap left by the departure of Visa and MasterCard with the Chinese Union Pay.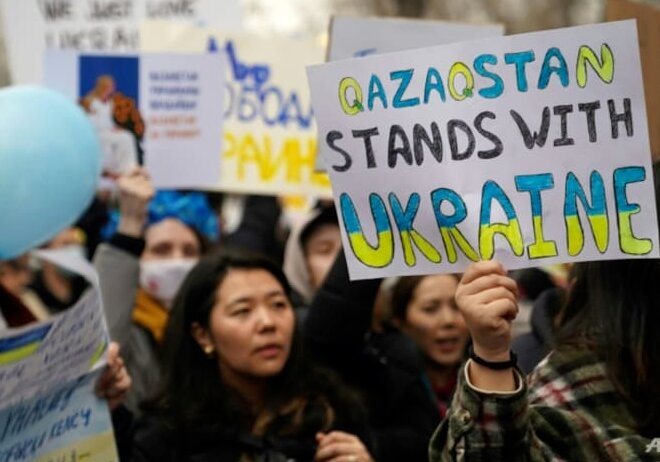 Image source: AFP
Georgia, Azerbaijan and Kazakhstan have agreed to increase traffic along the Trans-Caspian Route (TCR) (Astana Times, SRB). On March 9th, Azerbaijan and Kazakhstan agreed to establish a joint venture to this end. A similar agreement with Georgia is in the works, says Batyr Kotyrev, the Chief engineer of the "Kazakhstan Temir Zholy", the state-owned railway company. This is likely spurred by the downturn in trade with Russia as the latter's economy has been hit with multiple waves of sanctions. In addition, it had been a major part of Kazakhstan's "Path to Europe" foreign policy program to create diverse trade routes to the EU as well as China. The sanctions and the associated economic downturn seem to be a catalyst for the rebirth of Kazakhstan's program.
A rally condemning Russia's invasion of Ukraine was held in Almaty, Kazakhstan (RFE/RL). Kazakhstan's people and government have been concerned about the Russian invasion of its northern regions, which have a significant Russian minority, ever since Russia's annexation of Crimea in 2014. Another peaceful march was held on March 8th on the occasion of International Women's Day (HRW). No arrests or instances of police violence have been reported at either event, as of the time of writing. It seems that the Tokayev regime has decided to tolerate protests that either do not threaten the government or those that do not touch upon the 'first order' policy areas such as state security or economics.
Elsewhere, it was reported that Russia's banks have turned to China as Visa and MasterCard suspend business in the country (Fortune). Russia hopes that the Russian system Mir and the Chinese Union Pay can fill in the gap left behind by the two financial giants. Coupled with earlier removal from the SWIFT, now both domestic and international operations are seriously hampered in Russia. China has been a strategic ally for Russia, being a large market for the latter's raw materials and agricultural products.