This past week, Russia invaded Ukraine and almost immediately got slapped with sanctions, which had a domino effect on the Central Asian economies, Two more Kazakh ex-officials with ties to the former President Nursultan Nazarbayev were arrested and are awaiting trial, Uzbek trade was reported to be growing as the country considers production partnership with China, and Iran was said to be seeking the extension of the Iran-Afghanistan Railway into China.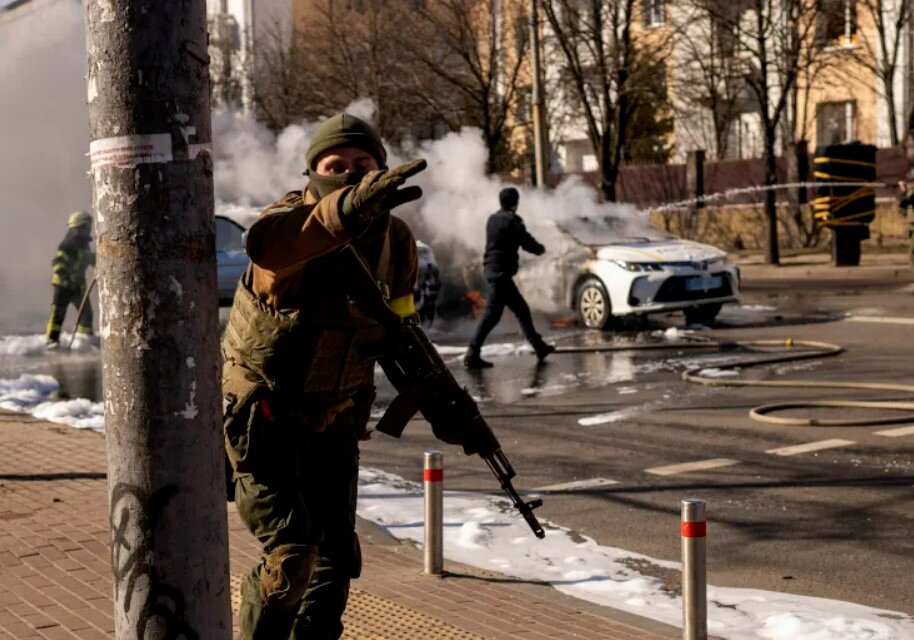 Image source: AP/ via Aljazeera
The Russian invasion of Ukraine has consequences reaching beyond the two countries as Central Asian currencies and stocks take a dip, reports Eurasianet. The depreciation of the central Asian currencies such as the Kazakh Tenge can be largely attributed to the panic-buying of the US Dollar by the general population as they prepare for a fall in the value of their currency, which turns into a self-fulfilling prophecy. Coupled with a spike in oil and wheat prices, according to Asia Finance, Central Asian Countries will have to face growing volatility, as the resulting rise in petrol prices will hit their domestic consumption as well as their exports. The situation is likely to grow worse as the extremely interconnected and interdependent economies of the Post-Soviet region become collateral damage of further sanctions against Russia.
Several former officials of the Kazakh security apparatus were detained this past week (RFE/RL, TRTWorld). Murat Bektarov, who was the defense minister during the January events was dismissed due to inaction, and has been charged for criminal negligence during said events and arrested on February 22. The next day, Marat Osipov, former deputy of the National Security Committee (KNB) was arrested on the same grounds (RFE/RL). These and many other ex-officials with ties to former President Nursultan Nazarbayev were arrested following the January events, indicating a purge of top-ranking officials who may still be loyal to the ex-President and his family over the current President Kassym Jomart Tokayev.
The Silk Road Briefing reports Uzbek Trade growing by 34.1% in 2021 citing the Uzbek State Statistics Committee. Uzbekistan's main trade partner for 2021 was China, with Russia as the runner-up. In related news, Uzbek and Chinese companies will co-produce electric cars according to Trend. These news taken together indicate a deepening trade and industrial relationship between the two countries.
Furthermore, Iran seeks to extend its Iran-Afghanistan railway into China (SRB). Both Iran and Afghanistan are allied with China, with Afghanistan counting China as one of its few allies after the Taliban seized power in 2021.