This week, China and Pakistan demonstrated devotion to the CPEC initiative after a string of rebel strikes in Baluchistan province, where Chinese investment has sparked resentment, President Xi's face-to-face diplomacy and visits of the worldwide leaders were said to be contributing to strengthening ties between China and other states, and in western Kazakhstan, protesters started to demonstrate again, only a month after mass protests that had begun in the same region rapidly extended throughout the nation. Meanwhile, Baku's Port in Azerbaijan, which is one of the key BRI junctions, was reported to be handling growing loads of shipments during this year.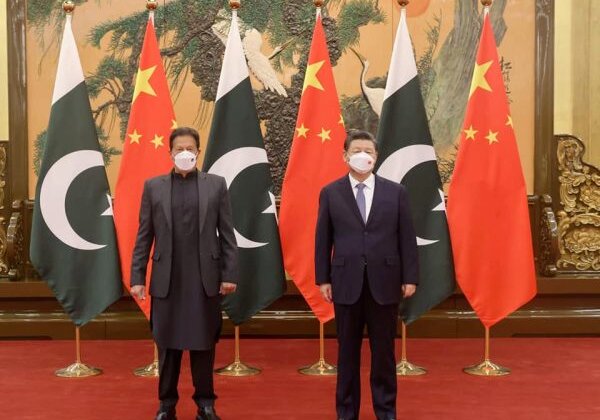 Image source: The Diplomat
On the fringes of the Winter Olympics, Chinese leader Xi Jinping held a number of face-to-face meetings with other world leaders, in order to represent China's increasing global standing following a two-year hiatus due to the coronavirus outbreak. One of these meetings was held with the Pakistani Prime Minister Imran Khan. Xi Jinping and Imran Khan pledged to go through with the second phase of the China-Pakistan Economic Corridor, after a string of rebel strikes in Baluchistan province, where Chinese investment has sparked resentment in July 2021. The Chinese foreign ministry quoted President Xi's resolution that Beijing is committed to working with Pakistan to integrate new development strategies and endorse the growth of the CPEC (SCMP). According to Radio Pakistan, Khan hailed additional Chinese investment and "lauded China's sustained support and help to Pakistan's socio-economic growth, which has tremendously benefitted from the CPEC's high-quality development.". On Saturday, Khan and Chinese Premier Li Keqiang also inked an agreement to begin the second stage of the CPEC. The CPEC, which was launched in 2013, is a major component of the Belt and Road Initiative, which aims to improve economic and infrastructural linkages throughout Asia and worldwide. The project's major feature is a road connecting Xinjiang in far west China to Gwadar Port in Balochistan. However, security worries have hampered the project, with separatists in Baluchistan fighting as insurgency and accusing China of exploiting the region's natural resources at the cost of residents. During the meeting on Sunday, Xi stated that the strategic importance of China-Pakistan relations has grown as the globe enters "a moment of instability and upheaval."
In addition to Khan, Xi met with the Argentinean leader on Sunday. Argentina has been officially included in China's Belt and Road Initiative, enhancing bilateral and commercial ties and furthering China's ambitions in Latin America. The Argentina BRI agreement is the latest in the long line of political gains Beijing has accumulated in Latin America, even after pauses in BRI, caused by the pandemic and the resulting global economic insecurity. (The Diplomat).
Apart from this, the most high-profile meeting was between Xi and the Russian President Vladimir Putin, which was scripted as a display of unity between the two leaders amid Moscow's escalating tensions with Ukraine that may escalate into a conflict. (RFE/RL). During Putin's visit to Beijing, the parties published a lengthy joint statement expressing their shared views on important global issues, which also included some harsh criticism of the US and its allies. Prior to this visit, Putin had also authored an article on Russia-China ties titled "A Future-Oriented Strategic Partnership." (Times of India). The texts indicate not only the joint desire for expanding relations but also a similar approach to the US and its allies that has the potential to alter the international order in ways that are not in the US's best interests.
In other news for this week, following fatal anti-government riots that shook Kazakhstan last month, hundreds of citizens of the fractious town of Zhanaozen have gathered for several days demand employment. The laborers claimed to earn 140 000 - 160 000 ($325-$370) each month (Vlast.kz). They demanded a 100 percent raise, but MAEK Kazatomprom only granted a 30% raise starting in March. The agreement was apparently turned down by the protesting workers. (The Diplomat). Additionally, following the dismissal of Bakhytzhan Sagintayev, the previous mayor of Almaty, hundreds of demonstrators gathered in Almaty on February 5 to oppose Erbolat Dosayev's selection as a mayor of the city. Following the tragic demonstrations last month, Tokayev declared his motto "Let's Build A New Kazakhstan Together!" and promised democratic reforms across the country, including the removal of authority at all levels.
On a different note, Silk Road Briefing reports that cargo turnover at the Baku International Sea Trade Port climbed by 14.6 percent in 2021, to 5.6 million tonnes. The importance of this mainly consists in the fact, that Baku Port in Azerbaijan is a key Belt and Road Initiative gateway since it handles large amounts of goods transiting between Asia and Europe. Important to note, that Baku's performance is thus one indication of Asia-Europe trade patterns. As stated by the port, the observed development in cargo transportation strengthens Azerbaijan's transit capabilities in these regions.