This past week, Emomali Rahmon, president of the Republic of Tajikistan, celebrated his 70th birthday and was awarded the "Order of Merit for the Motherland", III degree, by Vladimir Putin, the Chinese leader expressed the value of his close personal friendship with Emomali Rahmon, and the PRC was reported to be reconsidering its approach to one of its most ambitious and expensive projects, the Belt and Road Initiative.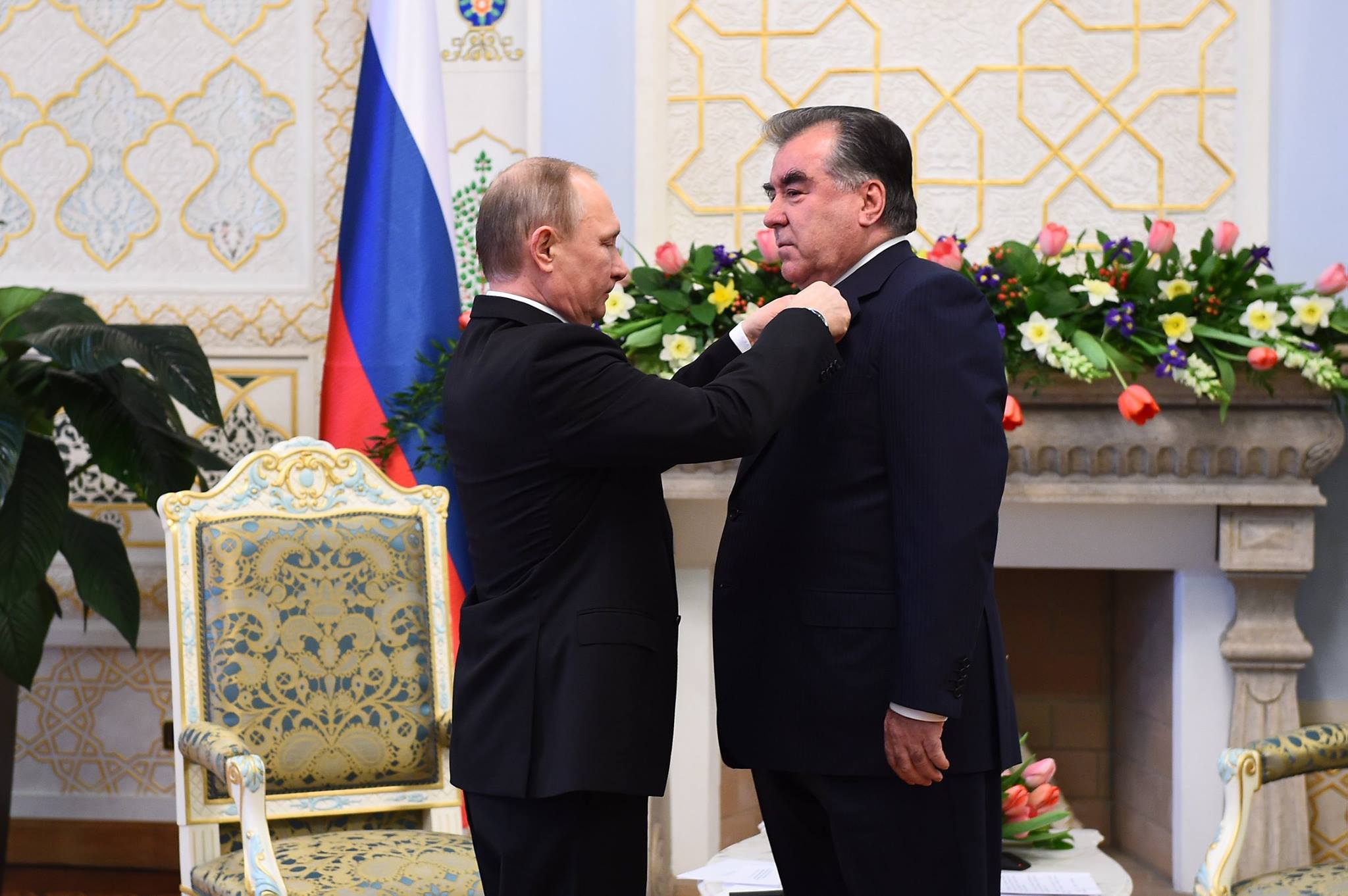 Image source: Asia Plus
Emomali Rahmon was born on October 5, 1952, in the Dangara District of Tajikistan. On the occasion of his birthday this year, Emomali Rahmon received cordial congratulations from heads of foreign countries, heads of international and regional organizations, as well as prominent state and public figures (Avesta). Emomali Rahmon received congratulations from the heads of the states of Russia, China, Uzbekistan, Belarus, Turkmenistan, Azerbaijan, Iran, Turkey, and Kazakhstan - Kassym-Jomart Tokayev, as well as the first president of Kazakhstan Nursultan Nazarbayev.
On October 5, President of the Russian Federation Vladimir Putin awarded President of the Republic of Tajikistan Emomali Rahmon with the Order "For Merit to the Motherland" of the third degree (Avesta). The Order is awarded to citizens for exceptional merits related to the strengthening of Russian statehood, the socio-economic development of the country, scientific research, the development of culture and art, and for similar achievements. The Order's motto "Benefit, Honor, and Glory" echoes the motto of the Imperial Order of St. Vladimir.
On the same occasion, the Chinese leader said that he treasures his close personal friendship with Emomali Rahmon (Asia Plus). In the text of the telegram, cited by the press service of the president, Xi Jinping noted that he attaches great importance to the development of Sino-Tajik relations and values "good working relations and close personal friendship". "Emphasizing the 30th anniversary of the establishment of diplomatic relations, I am ready to make joint efforts with you to promote comprehensive cooperation between China and Tajikistan in various fields for the benefit of the two countries and their peoples," the telegram reads.
China is reviewing its international investment and credit policy, which has been one of the main instruments for expanding its influence, and this is likely to have implications for Central Asia as well (Eurasianet). The main reason is that Beijing has faced the problem of overdue debts of tens of billions of dollars and the freezing of some projects. As a result, the Chinese authorities have begun a revision of the initiative, providing for stricter procedures for assessing the risks of projects and issuing loans, as well as seeking co-financing from partner states. Earlier on September 27, a Friendship Forum of the Peoples of China and Central Asian states was held in Xi'an, China, attended by more than 200 representatives of the PRC, Kazakhstan, Kyrgyzstan, Tajikistan, Turkmenistan, and Uzbekistan. The event included discussions on "traditional medicine and health, archaeology and protection of cultural heritage, education and exchanges".