This past week, the Chinese media reported on official meeting between the Chinese Vice President and Tajik National Assembly chairman, a presentation on the investment and tourism potential of Uzbekistan held in Hong Kong, the Xinjiang-Central Asia Media Exchange Seminar held in Urumqi, and Kazakhstan's announcement to hold a referendum on the construction of its first-ever nuclear plant.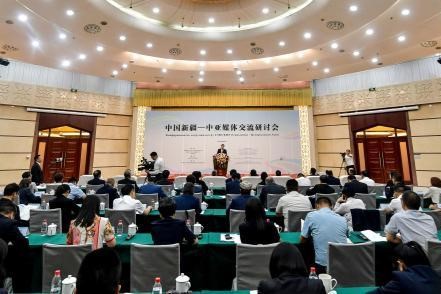 Speaker at the China's Xinjiang-Central Asia Media Exchange Seminar in Urumqi. Source: CNS, via Belt & Road Portal
Chinese Vice President Han Zheng met with Rustam Emomali, chairman of the National Assembly of Tajikistan, in Beijing (Xinhua Net). Han Zheng highlighted that under the strategic guidance of Presidents Xi Jinping and Emomali Rahmon, Chinese-Tajik relations have continuously made new progress with fruitful cooperation in various fields. China will work with Tajikistan to implement common goals, seek greater synergy in development strategies, enhance mutual support, expand practical cooperation, deepen security cooperation, and strengthen international coordination to jointly safeguard the security and development interests of both countries, to achieve joint development and prosperity. Furthermore, Han Zheng introduced Chinese modernization and said that China sincerely welcomes Tajikistan to board the "express train" of China's economic development to achieve modernization. Rustam Emomali said that Tajikistan prioritizes relations with China in its diplomacy, regards China as a reliable partner on the international stage, is willing to deepen bilateral cooperation in various fields and push for further development of the Tajikistan-China comprehensive strategic partnership.
The Embassy of Uzbekistan presented on Uzbekistan's investment and tourism potential in Hong Kong (People's Daily). The event, aimed to deepen economic, trade, and cultural exchange cooperation in the context of the Belt and Road Initiative (BRI). The conference was attended by Farhod Arziev, Uzbekistan's Ambassador to China, Long Yuxiang, executive chairman of China International Cultural Communication Center (CICCC), Yang Kaishan, chairman of the Hong Kong Commerce and Industry Associations, Xiao Kai, chairman of the Committee of the Board, and Chen Hongdao, executive vice chairman of the Hong Kong Volunteers Federation. Farhod Arziev underscored the deep historical and cultural connections between China and Uzbekistan, with Uzbekistan's strategic location as a crossroads along the ancient Silk Road fostering trade, cultural, and technological exchanges. He emphasized that the BRI presents enhanced opportunities for cooperation among countries along its route, leading to substantial achievements in the bilateral relationship between China and Uzbekistan. Ambassador Arziev also highlighted Uzbekistan's abundant natural resources and human capital. In recent years, the government has taken proactive measures to create a more business-friendly environment and actively participate in the global investment market. This move reflects Uzbekistan's openness to global investment and collaboration, aiming to stimulate economic development and cooperation across various sectors. Accordingly, the participants at the event received in-depth information and audio-visual presentations regarding entrepreneurship, business opportunities, and the favorable conditions for foreign investors in Uzbekistan. Additionally, there was an extensive discussion on Uzbekistan's tourism potential and the possibilities for cooperation in this field. Attendees expressed significant interest in the extensive reforms in Uzbekistan and the country's investment, business, and tourism prospects.
China's Xinjiang - Central Asia Media Exchange Seminar was held in Urumqi. The seminar featured keynote speeches delivered by media leaders in Kazakhstan, Kyrgyzstan, Tajikistan, and Uzbekistan (Belt & Road Portal). From the Chinese side, Wang Jianxin, member of the Xinjiang Uygur Autonomous Region Party Committee and director of the Propaganda Department; Liu Jianming, vice chairman of CPPCC Xinjiang Uygur Autonomous Region, deputy secretary of the Party Committee, deputy political commissar and director of the Propaganda Department of the Xinjiang Production and Construction Corps; and Chen Lujun, secretary of the Party Committee and president of China News Service, attended and delivered speeches. In his speech, Wang Jianxin emphasized the historical importance of the Silk Road and its legacy. As a pivotal location along the ancient Silk Road, Xinjiang has witnessed and experienced its rich history firsthand. He expressed optimism about Xinjiang's vibrant present and limitless potential for the future. He further stated that Xinjiang is committed to high-quality development, establishing "eight major industrial clusters" and promoting regional development through its geographical advantages, fostering a high-level open pattern that enhances connectivity between the East and the West. Hanat Tokabayev, deputy editor-in-chief of the Kazakh International News Agency, underscored the potential for cooperation between Kazakhstan and Chinese media to strengthen the already friendly relations between the two countries. Kazakh International News Agency has established cooperative relations with over 50 media organizations worldwide, including China's Xinhua News Agency and China News Service. According to him, enhancing collaboration between the media of both nations can foster mutual understanding and promote deeper relations.
Kazakhstan is to hold a referendum on constructing a nuclear power plant in the country, President Kassym-Jomart Tokayev announced during a state-of-the-nation address (The Paper). In his speech, President Tokayev highlighted the significance of nuclear energy development as a critical economic and political matter. He acknowledged the existence of varying opinions within Kazakhstan concerning the need for a nuclear power plant. On one side, Kazakhstan's status as the world's leading uranium producer has led some experts to advocate for constructing small-scale nuclear power facilities. Conversely, certain members of the public and experts expressed apprehensions regarding the safety of nuclear power plants. Addressing the public's concerns, Tokayev mentioned that considering the long-lasting suffering caused by the Semipalatinsk nuclear test site to the country's people, these doubts are entirely understandable. Therefore, Tokayev stressed that decisions on significant strategic issues like whether to build a nuclear power plant must be made through a nationwide referendum, fulfilling a promise he made to the people of Kazakhstan before the 2019 elections. Currently, the exact date for the referendum has yet to be decided.