This week, Chinese media reported on Kyrgyzstan's parliament's willingness to strengthen exchanges and cooperation with China's top legislatures, plans for an informal meeting between Uzbekistan's and Kazakhstan's leaders, an increase in Kazakhstan's sovereign credit rating, the arrest of three biotech company employees linked to deaths in Uzbekistan, and the export of 800 China-made buses to Uzbekistan.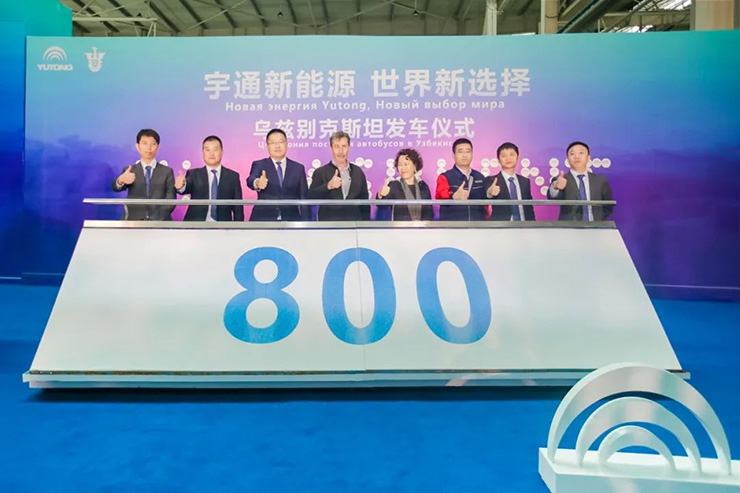 Image source: Yutong
On February 28, Ulan Primov, head of the Kyrgyz Parliament's Committee on Foreign Affairs, Defense, Security, and Migration, said that the Kyrgyz parliament is ready to enhance exchanges and collaboration with China's top legislative body, the National People's Congress. (Xinhua) In a recent meeting with Chinese Ambassador to Kyrgyzstan Du Dewen, Primov said that Kyrgyzstan and China, connected by mountains and rivers, are friendly neighbors and comprehensive strategic partners. Cooperation between the two countries in various fields is developing rapidly, with closer personnel exchanges, he added. "Inter-parliamentary cooperation is an important part of Kyrgyzstan-China relations," said Primov. Du noted on his part that the China-Kyrgyzstan comprehensive strategic partnership is at a historical high. Practical cooperation in various fields between the two countries has maintained sound momentum, as evidenced by the progress made in the China-Kyrgyzstan-Uzbekistan railway and other major projects under the Belt and Road Initiative. "China is ready to continue developing inter-parliamentary ties with Kyrgyzstan, strengthen the traditional friendship between the two peoples, and advance the building of a China-Kyrgyzstan community with a shared future," the diplomat added. Du also raised issues including taxation and insurance that are of concern to Chinese enterprises in Kyrgyzstan, hoping that Kyrgyzstan will create a favorable business environment for foreign investors.
On March 3, the President of the Republic of Uzbekistan Shavkat Mirziyoyev and the President of the Republic of Kazakhstan Kassym-Jomart Tokayev held an informal meeting in Shymkent. (Sina) The agenda of the talks encompassed bilateral and regional issues. Particular attention was paid to the promotion of priority cooperation projects between leading enterprises of Uzbekistan and Kazakhstan.
Kazakhstan's sovereign credit rating was confirmed at BBB-/A-3 on March 3rd, according to the international rating agency Standard & Poor's (S&P), changing its outlook from negative to stable. (Eastmoney) According to the government's press office, the agency forecasts a 4.1 percent growth in Kazakhstan's GDP this year and about 4 percent growth in 2023-2026. The Kazakh government's effective macroeconomic policy aimed at diversifying the economy through investment programs, improving the investment climate and tax policy, developing competition, reforming public procurement, and reducing state participation and administrative barriers for business was rated positively by S&P.
Elsewhere, On March 3, Indian police announced the arrest of three employees of the Uttar Pradesh-based pharmaceutical firm Marion Biotech after laboratory testing revealed that the company was not manufacturing medications in accordance with permitted standards. (5udf.net) The medications were found to be contaminated and counterfeit, according to the police. Marion Biotech's cough syrup is alleged to have caused the death of 19 children in Uzbekistan last year. The arrests were made after a case was registered against the company's five officials over a complaint by a drugs inspector of the Central Drugs Standard Control Organization (CDSCO). "Out of five people named in the police case, three have been arrested," said Ram Singh, a senior police officer in Noida. According to Singh, the case is linked to the death of the children in Uzbekistan because it was only after that samples from the pharmaceutical firm were collected for investigation. Marion Biotech came under scrutiny last December after its cough syrup, Doc-1 Max, was linked with the deaths of 19 Uzbek children. Following the reports, the Indian government launched an inquiry into the matter. In January this year, the WHO recommended against using two cough syrups made by Noida-based Marion Biotech due to their "substandard" quality. "Two cough syrups made by India's Marion Biotech should not be used for children after the products were linked to 19 deaths in Uzbekistan," read the statement. These two products were named AMBRONOL syrup and DOK-1 Max syrup.
On March 4, 800 new energy buses rolled off the production line in China's Zhengzhou and got ready to be delivered to Uzbekistan. The delivery ceremony was held at Yutong New Energy Plant. (ifeng) The vehicles will be delivered to Tashkent, the capital of Uzbekistan, to improve local public transport, facilitate travel and help Uzbekistan's public transport enter the electric stage. This delivery is the first batch, and the remaining vehicles will be delivered successively later this year.
Yutong is one of the largest Chinese manufacturers of commercial vehicles, especially electric buses, with headquarters in Zhengzhou, China. It also has businesses in construction machinery, real estate, and other investments. In 2016 it was the largest bus manufacturer in the world by sales volume. (Yutong)