This week, Chinese media reported on the resumption of passenger clearance at Xinjiang's road ports, Uzbekistan's goal to add 4.3 GW of wind and solar power by 2023, and contracts and agreements inked between Uzbekistan and Egypt.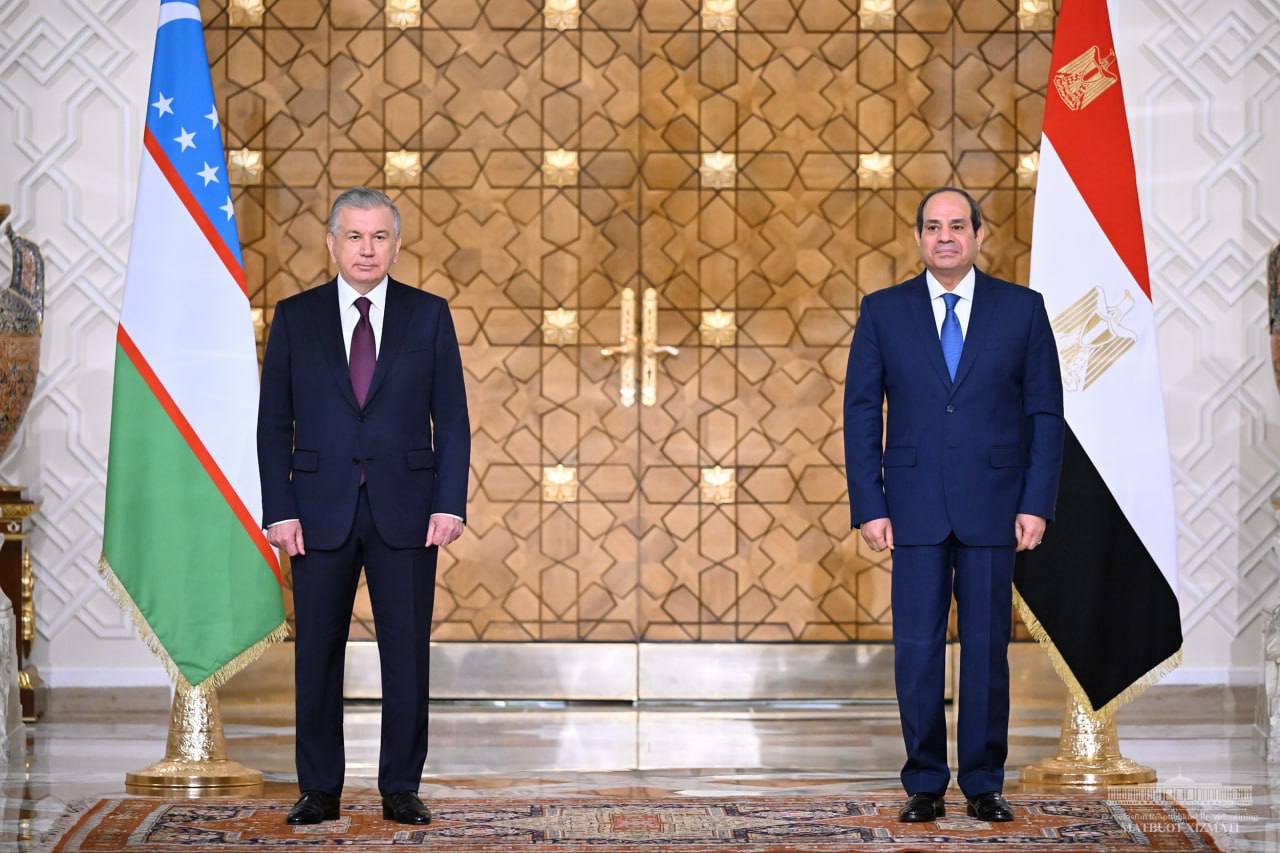 Image source: President's Website - Uzbekistan
The Alataw Pass, a key road port on the China-Kazakhstan border in the Xinjiang Uygur Autonomous Region, began passenger customs processing on February 20. (chinaqw) Passenger clearance at the road ports of Bhaktu and Torugart was also resumed on Monday in the area. According to Wang Shoujun, an official with the region's port authority, seven road ports, including the Horgos Port, have resumed passenger clearance in Xinjiang following the COVID-19-induced closure, with others to follow suit in a timely way. According to Wang, the restart is beneficial to increasing international exchanges and collaboration. Xinjiang, located in northwest China, lies at the heart of the Silk Road Economic Belt, bordering eight countries and serving as a transportation hub linking China to Central Asia and Europe.
According to the Uzbek presidential press office, on February 22, Uzbekistan and Egypt inked contracts and agreements totaling 1.6 billion US dollars in various domains. (iqilu) The agreements, which span the energy, textile, and agricultural sectors, were inked during Uzbek President Shavkat Mirziyoyev's visit to Egypt on February 20-21. According to the statement, Mirziyoyev and his Egyptian counterpart, Abdel-Fattah al-Sisi, also agreed to develop a roadmap to undertake cooperative projects and expand trade and investment relations. "Egyptian enterprises have every chance to jointly conduct major investment plans in our country," said the Uzbek president.
On February 24, it was announced that Uzbekistan intends to add 4.3 GW of solar and wind power plants by 2023. (ccedia) A total of 2.1 GW of additional capacity will be generated by major solar and wind power plants, 1.2 GW by rooftop solar panels (households, social and corporate facilities), and 550 MW by small PV power plants. The combined solar and wind capacity is estimated to provide an additional 5 kWh of power while saving 4.8 billion cubic meters of natural gas.