This week, Chinese news outlets covered Uzbekistan-Singapore economic cooperation agreements worth nearly $5 billion, a phone conversation between Uzbekistan's acting foreign minister Bakhtiyor Saidov and Chinese Foreign Minister Qin Gang, and Uzbekistan's plan to build 250 micro hydropower plants.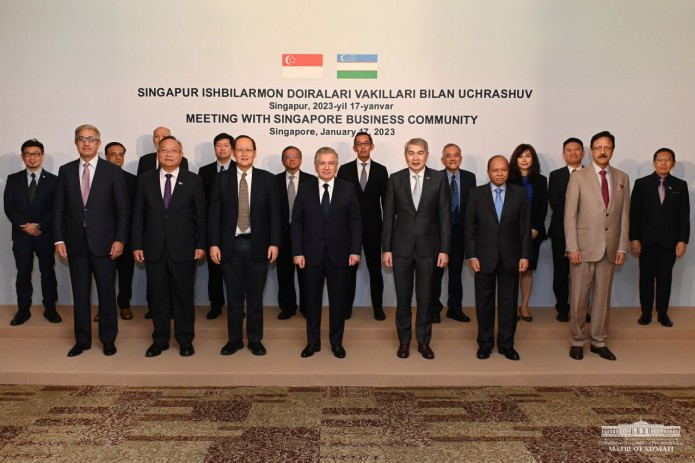 Image source: UZ Report
Uzbek President Shavkat Mirziyoyev paid a one-day state visit to Singapore on January 17, during which the two countries signed agreements worth nearly $5 billion USD (Xinhua Silk Road). Since Mirziyoyev began economic reforms, Uzbekistan has attracted notable foreign direct investment. Foreign investment now accounts for more than 30 percent of the country's gross domestic product (GDP). According to official data, the Central Asian country attracted $8 billion in foreign direct investment in 2022.
On January 19, Chinese Foreign Minister Qin Gang spoke by phone with Uzbekistan's acting foreign minister, Bakhtiyor Saidov (Xinhua). Qin stated that China-Uzbekistan relations have advanced rapidly under the strategic guidance of the two heads of state. He indicated that China is ready to work with Uzbekistan to fully implement the important consensus reached by the two heads of state, as well as to push for further achievements in all-round and mutually beneficial cooperation between the two countries. Noting that the political foundation and core essence of China-Uzbekistan relations is firm mutual support on issues concerning each other's core interests, Qin stated that China will continue to unwaveringly support Uzbekistan's independent development and oppose external interference in its domestic affairs. Saidov, for his part, asserted that he is ready to work with Qin to strengthen the two countries' friendship and push for new achievements in various fields of cooperation. Uzbekistan adheres firmly to the one-China policy, holds highly aligned positions with China on issues pertaining to regional security and stability, and will continue to firmly support each other on issues pertaining to respective core interests, according to Saidov.
Uzbekistan plans to build 250 micro-hydroelectric power plants to diversify energy sources and develop clean energy in response to rising domestic demand, according to a report published on January 20 (Eastmoney). It stated that promising locations for the construction of these plants have already been identified and submitted to President Shavkat Mirziyoyev. Based on official data, the power plants are expected to generate 675 million kilowatt hours of electricity and save 200 million cubic meters of gas per year. According to the president, such a move will allow solar and wind energy to be sold at attractive prices, benefiting private businesses in the Central Asian state's clean energy sector.