This week, Chinese media reported on talks between Chinese President Xi Jinping and Turkmen President Serdar Berdimuhamedov, the resumption of passenger customs clearance at the Horgos port, Kazakhstan's plan to send oil to Germany via a Russian pipeline, and Kazakhstan's GDP growth rate in 2022 and the country's economic targets for 2023.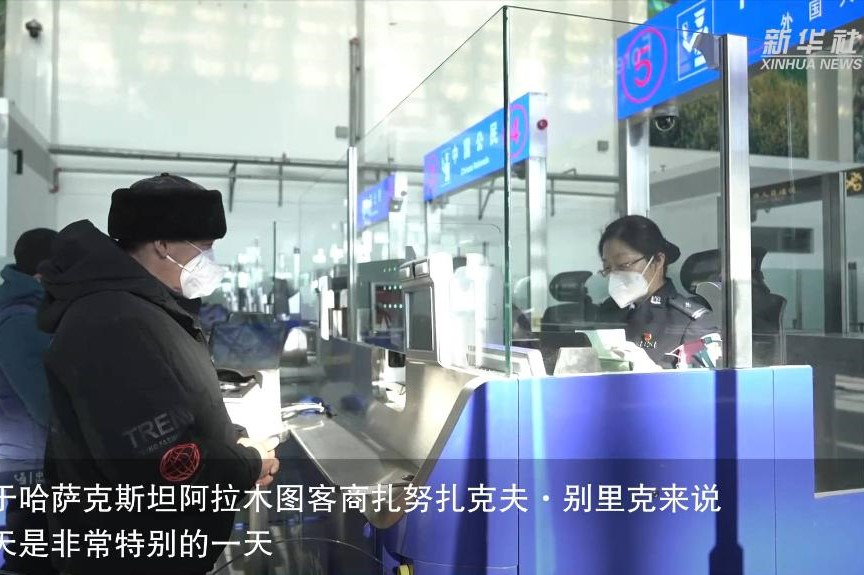 Image source: Xinhua
On January 6, Chinese President Xi Jinping met with visiting Turkmen President Serdar Berdimuhamedov in Beijing's Great Hall of the People (CCTV). The two heads of state announced that China-Turkmenistan relations would be elevated to a comprehensive strategic partnership. Following the talks, the two heads of state signed and issued the People's Republic of China and Turkmenistan Joint Declaration, as well as witnessed the signing of cooperation documents in the fields of "One Belt and One Road," green development, digital economy, health, culture, sports, media, and natural gas.
The Horgos border port in northwest China's Xinjiang Uygur Autonomous Region resumed passenger customs clearance on January 8, welcoming its first wave of inbound tourists in 2023 (Xinhua). According to the Horgos Exit and Entry Frontier Inspection Station, once customs clearance is resumed, no health code is required for incoming passengers except for a 48-hour negative PCR test, and centralized quarantine measures are eliminated. At the same time, incoming trucks only need to pre-declare their driver(s) and vehicle(s) information to Customs.
On January 10, Kazakhstan's Minister of Energy, Bolat Akchulakov, told reporters that Kazakhstan planned to export oil to Germany via Russia's "Druzhba" pipeline in 2023 (China News Service). According to Akchulakov, the Russian side has verbally approved the plan thus far. "January deliveries will total 20,000 tons, and we can export 6 million tons of crude oil to Germany each year, but actual demand in Germany is much higher than this amount," he added.
On January 11, the results of Kazakhstan's socioeconomic development for 2022 were reviewed at a government meeting presided over by Prime Minister Alikhan Smailov (Tibet). Alibek Kuantyrov, Minister of National Economy, stated that despite external negative factors, the country's economy grew by 3.1% in 2022. The growth in the real sector was 3.2%, while it was 2.5% in the services sector. Smailov stated that the country's economy should grow by at least 4% this year, which requires the full cooperation of all sectors, in reference to the country's economic development goals for 2023. Meanwhile, asserting the need for sustainable economic growth, he stated that efforts to improve the economy's digitalization must be stepped up, including ensuring the integration of information systems into a single platform, moving public services to electronic format, and simplifying the process of providing them.