This past week, the Chinese media reported on the first official visit by the Greek Foreign Minister Nikos Dendias to Kazakhstan, Export tariffs to be imposed on sunflower seeds originating from Kazakhstan by January 2023, Uzbekistan's plans to import gas and electrical power from neighboring countries under commercial contracts and not through any alliance or union, and the visit of Chinese Vice Premier Hu Chunhua to Uzbekistan.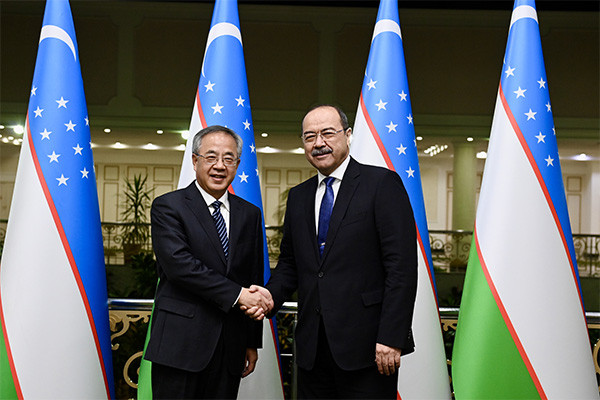 Image source: UZ Daily
On December 5, Kazakh Head of State Kassym-Jomart Tokayev received the Greek Foreign Minister Nikos Dendias (China News Service). During the meeting, prospects for the development of Kazakh-Greek cooperation focusing on the enhancement of trade and economic relations were discussed. Kazakh President called Greece one of the key partners of his country in the EU, adding that the two countries actively cooperate in multilateral issues. "I'd like to reiterate that the relations with Greece are a priority. We're to make every effort to take our mutual cooperation to a new level," the Kazakh President said. For his part, Dendias thanked Tokayev for the opportunity to exchange views on bilateral and multilateral cooperation. "I want to note that our country regards Kazakhstan as a major and priority partner for us in Central Asia, and as a guarantor of stability in the region. Greece is ready for further mutually beneficial cooperation with your country", said the minister. The sides also exchanged views on current international and regional issues.

On December 6, Kazakhstan's Deputy Prime Minister and Minister of Trade Serik Zhumangarin said the country will impose export tariffs on sunflower seeds starting in January 2023 (Sina). The aim is to limit the export of sunflower seeds by introducing an export duty of 20% of the value of the cargo, but not less than 100 euros per ton, the Ministry of Trade and Integration of Kazakhstan. At the end of 2021, Kazakhstan exported 148 thousand tons of sunflower seeds, mainly to China (38%) and Uzbekistan (35%). Meanwhile, 60 thousand tons of sunflower oil were exported, of which 47% went to Uzbekistan, and 40% to Tajikistan.
On December 7, Uzbekistan's Energy Minister Zhurabdek Mirzamakhmudov told local media that Uzbekistan plans to import gas and electrical power from neighboring countries under commercial contracts, but not through any alliance or union (Jiemian). Mirzamakhmudov did not state the volumes of energy import and the supplier countries. In January-September this year, gas extraction in the country declined by 1.6% YoY to 38.85 billion cubic meters. Last month, Russian Deputy Prime Minister Alexander Novak told reporters that Uzbekistan is interested in creating a gas union with Russia and Kazakhstan. The Kazakh presidential press secretary Ruslan Zheldibay has also confirmed holding such trilateral negotiations at the Kremlin on November 28.

On December 9, Chinese Vice Premier Hu Chunhua met with Uzbek Prime Minister Abdulla Aripov in the capital of Uzbekistan (Xinhua). Hu requested Aripov to convey Chinese President Xi Jinping's cordial greetings to Uzbek President Shavkat Mirziyoyev, and briefed Aripov on the major achievements and far-reaching significance of the 20th National Congress of the Communist Party of China. This is the second meeting between the two this year, focused on deepening bilateral cooperation and charting the course for the development of the China-Uzbekistan comprehensive strategic partnership, Hu said. He added that China is ready to work with Uzbekistan to implement the important consensus reached by the two heads of state, strengthen mutually beneficial cooperation and share development opportunities. For his part, Aripov spoke of the friendly relationship and mutual trust that according to him, has played a vital role in promoting bilateral cooperation. Uzbek Deputy Prime Minister and Minister of Investments and Foreign Trade Jamshid Khodjayev also attended the talks. On the same day, Hu also met with Uzbek Deputy Prime Minister and Minister of Economic Development and Poverty Reduction Jamshid Kuchkarov, exchanging views on cooperation in poverty reduction and other fields.