This week, Chinese mass media reported news on the Asia gas pipeline transporting over 40 billion cubic meters this year, the efforts to deepen bilateral cooperation between Kazakhstan and Russia in various fields, the messages of condolences from world leaders to Xi Jinping over the death of former Chinese leader Jiang Zemin, and the virtual meeting between Chinese Premier Li Keqiang and Kazakh Prime Minister Alikhan Smailov.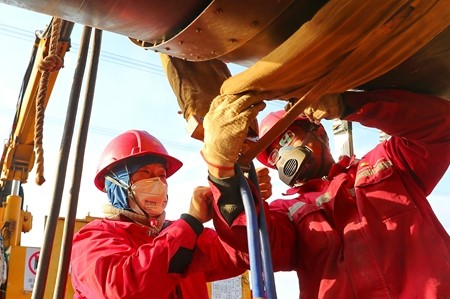 Image source: Global Times
On November 28, China West Pipeline Company reported that this year, the China-Central Asia Gas Pipeline has delivered over 40 billion cubic meters of natural gas to China (CCTV). According to the company, the pipeline transported about 120 million cubic meters of natural gas a day during the period. With a total length of 1,833 km and a designed annual gas transmission capacity of 60 billion cubic meters, the pipeline was launched in December 2009. China's first transnational gas pipeline, it runs from the border of Turkmenistan and Uzbekistan, passes through Uzbekistan and Kazakhstan, and links up with China's West-to-East Gas Pipeline in Horgos, northwest China's Xinjiang Uygur Autonomous Region. It has been operating stably and safely for 4,730 days since it was put into service, and it serves over 500 million people in 27 provinces, municipalities, autonomous regions, and the Hong Kong Special Administrative Region.
On November 28, Russian President Vladimir Putin and his Kazakh counterpart Kassym-Jomart Tokayev signed a cooperation document as the two countries mark three decades of diplomatic ties this year (Sohu). The Declaration on the 30th Anniversary of Diplomatic Relations between Russia and Kazakhstan contains 37 articles and stipulates efforts to deepen bilateral cooperation in the fields of politics, economy, defense, culture, education, healthcare, youth and sports. Before inking the document, Putin and Tokayev took part via video link in the 18th Russia - Kazakhstan Inter-regional Cooperation Forum held in the Russian city of Orenburg. "It is the first visit after Mr. Tokayev's re-election as President of Kazakhstan. In this sense, it has a symbolic meaning. It underlines the special nature of our relations," Putin said at the meeting. "For Kazakhstan, Russia has been and remains our main strategic partner, a country with which we have deep ties in a wide range of sectors," Tokayev replied.
On November 29, Chinese Premier Li Keqiang held an online meeting with Kazakh Prime Minister Alikhan Smailov, calling for closer high-level exchanges and enhanced cooperation between the two countries (China News Service). Li said China and Kazakhstan are friendly neighbors and their bilateral relations have achieved substantial development since the establishment of diplomatic ties 30 years ago. During the exchange, Li said China stands ready to strengthen high-level exchanges and communication with Kazakhstan at all levels, enhance the synergy of development strategies, deepen practical cooperation in various fields, and improve coordination and cooperation on regional and international affairs. He added that it is hoped that the two sides will implement the inter-governmental economic and trade cooperation plans, improve interconnectivity, enhance the volume of border shipments, and promote the continuous improvement of bilateral trade. Noting that energy cooperation is the cornerstone of practical cooperation between the two countries, Li said it is hoped that Kazakhstan will ensure a stable supply of gas to China in accordance with the contract and increase its gas supply during the winter as much as possible. China is willing to import more high-quality green agricultural and livestock products from Kazakhstan, Li noted, adding that the two countries can explore new growth points in cooperation on finance and cross-border e-commerce, step up people-to-people exchanges, and advance the negotiations on visa waivers. Smailov said Kazakhstan would like to take the 30th anniversary of the establishment of diplomatic ties as an opportunity to deepen political mutual trust with China, implement the inter-governmental economic and trade cooperation plans, strengthen communication and cooperation on economy and trade, production capacity, energy, agriculture, connectivity and people-to-people exchanges, and push forward the permanent comprehensive strategic partnership between the two countries.
On December 1, leaders of many countries and international organizations expressed their deep condolences by phone, letter and other means to Chinese President Xi Jinping over the passing of former Chinese leader Jiang Zemin (Xinhua). Kazakh President Kassym-Jomart Tokayev said Jiang was dedicated to promoting China's development and prosperity, and enhancing its international influence. The former Chinese leader had made great contributions to strengthening the friendship between Kazakhstan and China, and would be remembered forever by the people of the two countries, he added. Tajik President Emomali Rahmon spoke highly of the great contributions Jiang had made to the development of China and to Tajikistan-China relations, saying that his passing is a major loss.