This past week, a multilateral meeting of Central Asian and European Union representatives was held to address the future of strategy, outreach, and humanitarian support toward Afghanistan, Kazakhstan stated its continued dedication to a program of higher education for Afghan students in Central Asia, ethnic Kyrgyz families in Afghanistan beseeched the government of Kyrgyzstan to repatriate them to their ancestral homeland, Afghanistan & Uzbekistan verbally clashed over the supply of electricity, and the Chinese foreign minister held a call with his Afghan counterpart to discuss China's concerns and commitments.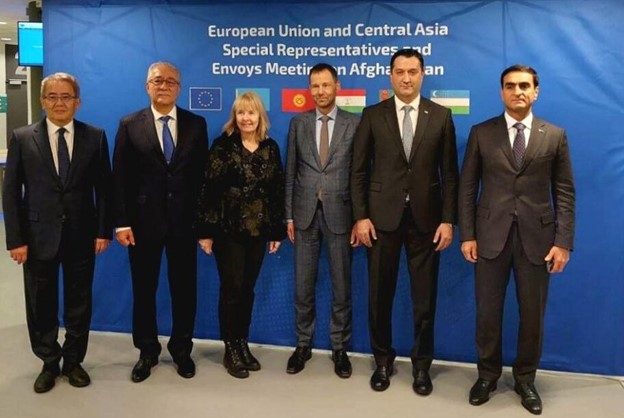 Image source: MFA of Kazakhstan
A Kazakh delegation, headed by the Ambassador-at-Large of Kazakhstan's Ministry of Foreign Affairs, Talgat Kaliyev, assembled in Brussels, Belgium, on January 20 to meet with special representatives of other Central Asian republics (KazInform, European Union). Also present were key European Union officials, such as the Special Representative to Central Asia, Terhi Hakala. A gathering by this group had not been held since May 2022 in Almaty, Kazakhstan. Afghanistan's influence on regional security, its humanitarian crises, and its future stability were the central issues at hand. Kaliyev affirmed Kazakhstan's support for continued humanitarian aid to Afghanistan. Kazakhstan, through cooperation with the United Nations World Food Program, provided nearly half a million tons of flour to Afghanistan in the first half of 2022. Delegates from Kyrgyzstan, Tajikistan, Turkmenistan, and Uzbekistan likewise asserted their solidarity with efforts at a multilateral approach to ensuring Afghanistan's stability, which they deem vital for the long-term development and security of Central Asia. The meeting closed with Kaliyev advocating for increased cooperation and the creation of a project to create a regional center in Central Asia, under the direction of the United Nations, to coordinate material assistance to Afghanistan's impoverished population.
Likewise, on January 23 Talgat Kaliyev clarified the position of Kazakhstan on a program, backed by the European Union and United Nations Development Program, that allows Afghan students to study in Kazakhstan, Uzbekistan, and Kyrgyzstan (Liter). He confirmed that Kazakhstan's universities will continue to participate in this educational outreach program. This announcement comes amid renewed concern by the Central Asian republics toward the Taliban's suppression of women's rights in Afghanistan.
Last week, ethnic Kyrgyz residents of Afghanistan appealed to Kyrgyzstan for repatriation (Radio Azattyk). Previously residing in the remote Wakhan Corridor, a narrow strip of land in Afghanistan's Badakhshan province separating Tajikistan from Pakistan, dozens of Kyrgyz families have uprooted their belongings and families and moved closer to the border with Tajikistan, hoping for rescue by the Kyrgyz government. One father cited his fear that his children, both boys and girls, will never receive education in Afghanistan due to the Taliban's policies, saying "If my children do not receive an education, then on the Day of Judgment I will be asked. Therefore, I would like to move to Kyrgyzstan." Although the repatriation of Afghan Kyrgyz has remained a continuous priority for Kyrgyzstan in the past decade, especially since the collapse of the Islamic Republic of Afghanistan in August 2021, the Ministry of Foreign Affairs has not yet spoken out about how it will repatriate the families in this specific instance.
Amir Khan Muttaqi, the Afghan Minister of Foreign Affairs, entreated the government of Uzbekistan on January 22 to make good on the energy agreement made between Kabul and Tashkent (Tolo News). The agreement, made with the Afghan energy corporation "Da Afghanistan Breshna Sherkat" (DABS), stipulated 400 watts of electricity, according to the Taliban government. But due to the extraordinary polar weather in Central Asia, Uzbekistan has struggled to fulfill this contract. Amid this cold snap, dozens of people have died in Afghanistan. As of January 27, Uzbekistan had resumed the supply of electricity to Afghanistan, but not nearly enough and not the amount agreed upon, according to DABS chief Hekhmatullah Akhunzada (Tolo News). Because Afghanistan relies heavily on Uzbekistan, Tajikistan, Turkmenistan, and Iran for electricity, this struggle over energy will likely continue for the foreseeable future.
Qin Gang, China's Minister of Foreign Affairs, serving only since December 2022, spoke on the phone to Afghan Minister of Foreign Affairs Amir Khan Muttaqi on January 21 (South China Morning Post). In light of the December 12, 2022 ISIS-K attack on the Kabul Longan Hotel, an establishment popular among Chinese businessmen, Qin expressed concern for the safety of Chinese citizens in Afghanistan. In addition, he confirmed China's dedication to encouraging the Taliban to implement "a broad & inclusive political structure." Muttaqi, in return, voiced the Taliban's desire to make Afghanistan safe for Chinese investment and engagement. This phone call comes on the heels of the early January contract between the Afghan government and the Chinese oil company Xinjiang Central Asia Petroleum and Gas for 25 years of oil extraction in the Amu Darya basin, located in Afghanistan's northern provinces. The Taliban will receive 15% royalties from the approximately 85 million barrels of oil (South China Morning Post).