Chinese-Central Asian relations was a topic of particular scholarly interest during October. Among the vast volume of works published in the period, some central trends may be highlighted as the most popular topics covered by Academia. In this sense, the Chinese Belt and Road Initiative remains the most cited theme approached by authors. From studies of the historical formulation of the enterprise to its connexions and consequences upon Central Asia, China's project was responsible for the plural and robust works during the period. In this context, it is important to highlight analyzes conducted about political, economic, industrial and agricultural impacts over Central Asia. Furthermore, balances on the effects of the Chinese project on the Central Asian region were also an interesting debate among scholars throughout October publications. Finally, security matters between China and Central Asia were also featured in some of the works selected in this report.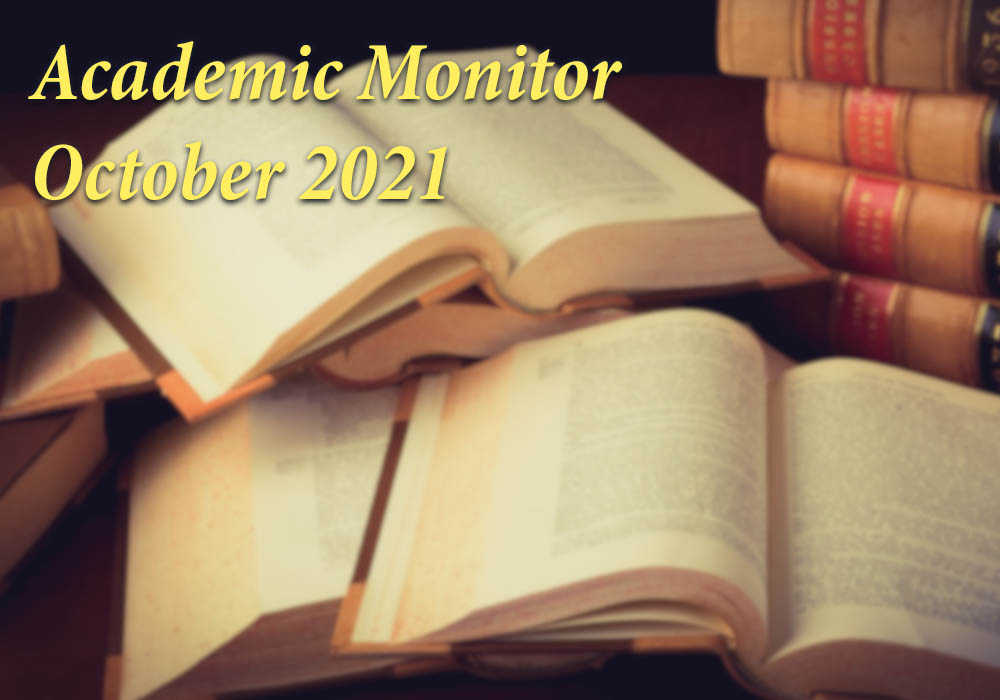 The recent Afghan context, conditioned by the US withdrawal, continues to raise questions regarding its regional impacts. In this sense, as presented by Samiullah, Mazhar Islam, Sanaullah, Shakeel Iqbal and Rafeed Ullah Khan, the Chinese leadership is exploring all possible measures to establish lasting peace in the country, playing not only a vital role in paving the ground for the Afghan reconciliation process, but also helping the current unity regime in Kabul to improve law and order. China's interest in the matter is justified because a stable Afghanistan would be an oasis in the heart of Central Asia, and if the former is unstable, it will be a safe haven for most religious extremists and terrorists. Throughout the study, the authors, thus, analyze the implications of the Afghan scenario within the region, highlighting the political role played by the Central Asian states.
Although the Chinese operations regarding Afghanistan are not framed under the umbrella of the One Belt One Road Initiative, such an enterprise is still responsible for much of Beijing's projects in Central Asia. As demonstrated by Fakhar Hussain and Hussain Sarfraz, China has designed the BRI as a new strategic framework for its foreign policy and economic ambitions, concentrating directly on the neighboring countries along its southern and western borders. China aims to foster cooperation at the regional levels through BRI by leveraging the enormous financial and economic potentialities of China. The primary objective of China with respect to the BRI is to "divert Beijing's strategic attention and resources toward engagement with countries on China's western flank, including Central Asia, West Asia, South Asia, and beyond. In this sense, the search for a multi-polar world emerges as one main goal of the Chinese government, whose approach aims to nurture mutual relationships based on win-win cooperation and reciprocal benefits among all countries involved. The BRI embodies Chinese goals regarding different countries and regions, among which Central Asia holds a particularly central role. In this regard, Alok Behera Manish affirms that the BRI gives China access to the abundant energy resources in Central Asia, alongside trade connectivity, industry, infrastructure development, and expanding regional markets and facilitating regional cooperation. China's BRI investments focus on rail and road connectivity projects, energy connectivity projects, trade promotion and industrial development, and people-to-people projects, which allows China to gain a broader presence in the Central Asian region and, thereby, leads to competition among major powers such as Russia, the USA and India.
As suggested by Fakhar Hussain and Hussain Sarfraz, the ambitious goals of the BRI have been impacting the regional, and international, context at different levels, which is now leading to important events of utmost academic relevance. The recent publication of the Research Handbook on the Belt and Road Initiative, edited by Joseph Chinyong Liow, Hong Liu and Gong Xue, explicits the importance of the BRI for global politics. The book investigates the radically transformative impact of the project addressing key questions regarding its economic, political and strategic consequences. Among contributions from different authors, Bhavna Dave dedicates a chapter to analyze Kazakhstan's pursuit of economic partnership amidst rising concerns regarding China's interests. Within the growing bilateral strategic partnership framework established by the BRI, president Nazarbaev aligned Kazakhstan's developmental vision with BRI to promote the country's own industrial development and economic modernization goals. The widening of cooperation with investments by China's state corporations and funding agencies, however, has also led to growing social unrest about the lack of transparency and raised questions about the long-term benefits of BRI to Kazakhstan. As demonstrated by the author, while Kazakhs' ruling elites depend on Beijing to deliver economic development to enhance their legitimacy, they are also faced with growing popular discontent with their inability to take a strong stance against China.
Throughout the book, the consequences of the BRI within Central Asia are also explored by Yau Tsz Yan and Farkhod Tolipov. The former unveils the role of Tajikistan as China's gatekeeper in the region. As stated by the author, to revive the old Silk Road, Chinese state-owned enterprises are reconnecting Tajikistan's northern cities, leading Beijing's enterprise to quickly become the prime cooperation framework between both countries. In 2017, Tajikistan has aligned its National Development Strategy 2030 with the BRI in hopes of connecting and developing its small economy with China, Central Asian countries, Afghanistan and Pakistan. Since then, many Chinese projects have thrived in the name of One Belt and One Road. On the other hand, the latter author analyzes the BRI reverberations in Uzbekistan under the need to overcome Central Asia's transport isolation from outer world markets created with their independence in 1991. From this perspective, the BRI became a timely initiative that sounded and looked promising for all of Central Asia because it symbolizes and embodies the revitalization of the ancient Great Silk Road. However, this process brings with it a transformative effect for peoples of the region.
In addition to the contributions from Bhavna Dave, Yau Tsz Yan and Farkhod Tolipov, whose chapters are mainly aimed at the analysis of economic and political consequences from the BRI to Central Asia, Hongzhou Zhang provides an interesting view on the impacts of the BRI upon food security and agriculture in the Central Asian region. According to the author, the agricultural and food sectors are the most likely areas where the BRI might succeed as there are huge complementarities between China's global efforts to safeguard the country's food security and the endeavor. In this sense, countries involved in the project, such as, but not limited to, the Central Asian states, have become central to China's efforts to diversify its food supply globally. On the other hand, agricultural and food-related cooperation has the potentials to address some of the key challenges facing China's BRI.
Regarding the challenges to the agricultural and food security aspects of the BRI mentioned by Hongzhou Zhang, Buho Hoshino, Kazuki Seno, Christopher McCarthy, Maira Kussainova, Sabir Nurtazin, Mikoto Kaneko, Nobutake Nakatani, Satoru Hobara and James Banfill highlight the risk assessment of Chinese investments made in Kazakhstan. Oases agriculture is one of the most vulnerable primary industries to climate change and human activities. Central Asia is one of the arid regions highly vulnerable to water scarcity. Located in Central Asia, Kazakhstan is characterized as a semi-arid region that includes dry steppe land in the south. Agriculture carried out in this area is typically oasis farmland with water taken from local rivers used for irrigation. During the former Soviet Union, irrigation projects were widely carried out to expand agricultural land, and large-scale irrigation projects were created in several areas. Therefore, many irrigated farmlands were abandoned due to the collapse of the former Soviet Union. Now, China's investment in Kazakhstan agriculture is cultivating once abandoned agricultural land and developing new oases of agricultural land. On the other hand, China's BRI has led to urbanization along railroads and highways, reducing the area of agricultural land, which contradicts the former goal of expanding agriculture in the country. The authors conclude that China's investment in agriculture could lead to the depletion of water resources in the region, which poses a highly problematic challenge to the urbanization goals of the BRI.
The diversity of the Chinese goals regarding the BRI promotes, as suggested by all the works previously presented, many consequences that spill over different countries and contexts within Central Asia. Overall, however, China's enterprise may be positively evaluated given the investments and economic partnership promoted by Beijing. That is the main argument of the Middle East and Central Asia Department of the International Monetary Fund. Weaker commodity prices, slower global growth, and higher global risk aversion are the channels through which Central Asia economies, among others, could be most affected by China's rebalancing, especially if the rebalancing leads to a hard landing. Overall, the impact on the region is likely to be small given the limited bilateral trade and financial linkages with China. Within the region, commodity exporters would be impacted the most. On the positive side, China's BRI investments, mainly in infrastructure, could help increase growth in Central Asia. China's rebalancing also presents an opportunity for the region to increase consumption-oriented exports, for example, tourism, agricultural products, and clothing, while creating jobs. To reap these benefits, however, countries need to step up structural reforms to improve their business environment and boost productivity and competitiveness.
Another positive aspect of the BRI in Central Asia is the incentive of regionalization. Noemi M. Rocca argues that the "Central Asian corridor" – a region including Iran, China, and the five Central Asia (CA) post-Soviet states – is experiencing an informal process of region-building. Its internal drivers are represented by China's BRI and an Iranian renewed Eastward attitude. Although China's main goal is that of constructing a wide transport infrastructure for connecting Chinese goods with Western markets, it also has the potential of enhancing connectivity and economic growth in CA. Iran can make its huge gas and oil reserves available as well as its already existing transports network capable of connecting land-locked Western China and CA to the Persian Gulf. Together such drivers could increase energy self-sufficiency in the region and lead it to economic interdependency. Moreover, given that all of these seven states share regional stability and security as main policy concerns, their mutual engagement can help to avoid inter-state and intra-state conflicts within the region.
Despite the positive evaluation of the BRI promoted by the International Monetary Fund and Noemi Rocca, critiques must be made to the Chinese enterprise in Central Asia. In this sense, Dirk van der Kley and Niva Yau There demonstrate that there has been a sea change in China's economic involvement in Central Asia. Large-scale transport and electricity projects funded by Chinese government loans have dried up. Hydrocarbon exports to China continue, but they are not the focus of most new projects. Instead, there are a growing number of industrial projects that seek to make value-added products that can be exported. These projects are increasingly staffed by Central Asians who receive technical training from Chinese firms. This change has been primarily driven by Central Asian states. The region's governments have long pushed for industrial capacity building, including the upskilling of local workers. In addition, debt concerns in Kyrgyzstan in particular have made Chinese loans less attractive and less prevalent. This trend has coincided with Chinese policy banks' embrace of more conservative lending policies globally for infrastructure projects. Chinese firms have begun adapting to these demands. They have steadily increased their proportions of local hires by training Central Asian workers both onsite and in China to address skills shortages. They have tried to engage local communities to earn a social license for their overseas operations. The Chinese government is now following suit, developing more formal cooperation agreements on industrialization and upskilling in addition to pre-existing, ad hoc arrangements by individual companies. So far, the outcomes have been mixed. Many Chinese firms in Central Asia are employing more locals, yet the more closely integrated these Chinese firms become with the region's economies, the more they must deal with, or be co-opted by, localized corruption and political fights. Furthermore, newly available polling data shows that public sentiments toward China are becoming more negative.
In this sense, Central Asian countries are not being taken for a ride by a predatory Chinese government or corporate sector. They are well aware of the risks and opportunities of economic engagement with Beijing, but they have tried to leverage these openings to meet their own growth, labor, innovation, and development needs. Government officials across the region are hungry for transformation, not incremental change that does not close the gap with more developed countries. And they are insisting that even Chinese firms leave more of the value-added from their regional investment projects in Central Asia itself. Central Asian countries have learned that they themselves need to press for economic development goals to be incorporated into contracts and reinforce their expectations of Chinese investors.
While talking about Central Asia's capacity to resist Chinese indiscriminate growth, Dirk van der Kley and Niva Yau There also highlight the role of other agents, such as the US, whose partnership has been both representing another alternative for China's proposals and a trading instrument. By suggesting the possibility of giving in to economic and industrial cooperation with the US, Central Asian countries have been increasing their autonomy in relation to Chinese demands. An aspect of the US presence in Central Asia that is not particularly covered by the article from the Carneige Endowment is the military one, which is analyzed by Azeem Gul, Muhammad Munir, Munawar Hussain and Mujahid Hussain. Since the dissolution of the former Soviet Union, the US and China are aspiring to enhance their strategic influence in Central Asia, which has recently been intensified due to the BRI. Furthermore, China has also increased its influence in Central Asia through regional organizations such as Shanghai Cooperation Organization (SCO), which poses an important challenge to the American interests in the region. Against this backdrop, Pakistan emerged as an important pivot of China's BRI where the China–Pakistan Economic Corridor (CPEC) is the flagship project. In this sense, US-China strategic competition will have implications for various states, among which the Central Asian ones along with Pakistan are of utmost importance given their location and the current Chinese-American dispute for leverage.