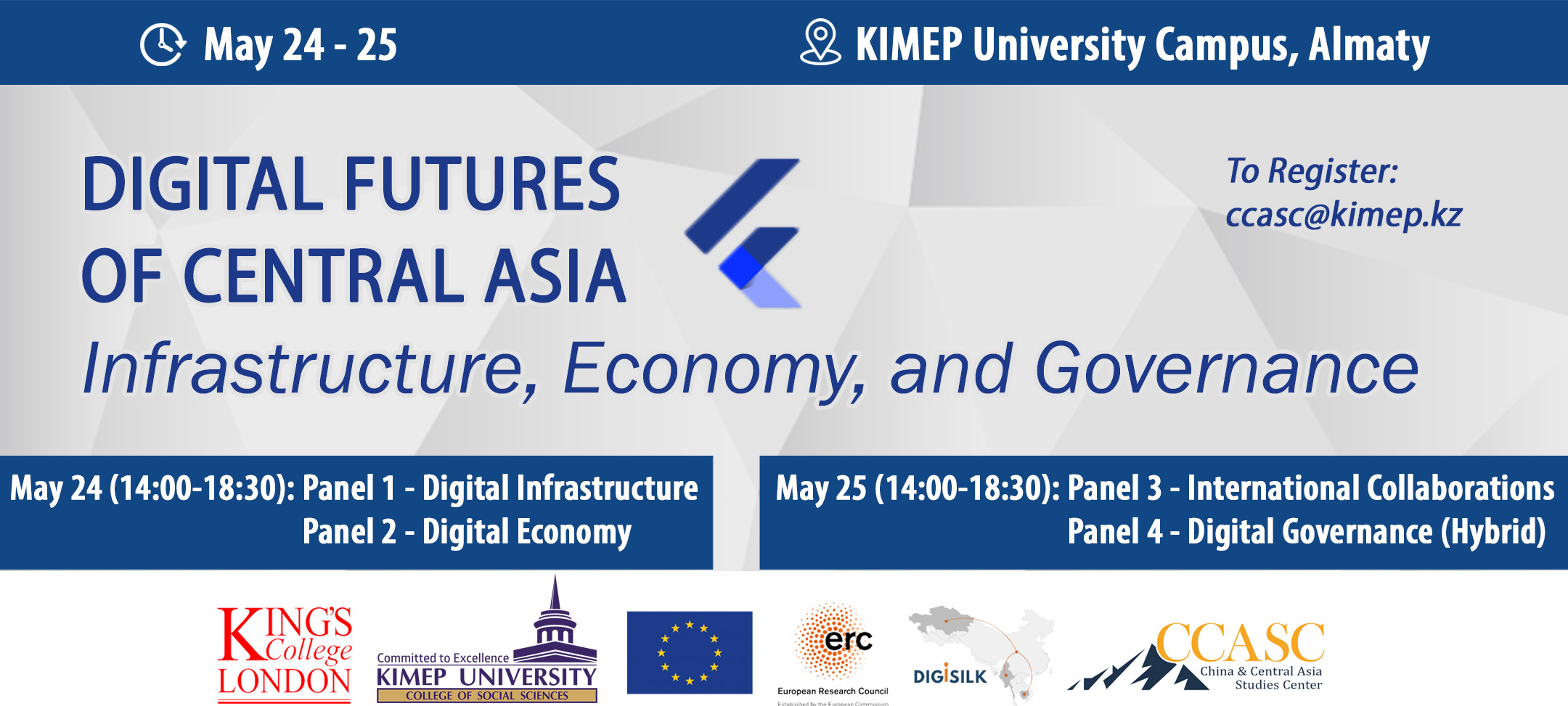 On May 24 & 25, 2023, four panels of distinguished scholars and experts from Kazakhstan, Kyrgyzstan, Uzbekistan, China, and the UK, will meet at the KIMEP University campus in Almaty to discuss the future prospects of Digitalization in Central Asia.
Digital Futures of Central Asia: Infrastructure, Economy, and Governance
focuses on three areas that will be key for the future development of the region:
digital infrastructure, digital economy, and digital governance
. The two-day event brings together academics, policymakers, and civil society representatives, amongst others to discuss the region's evolving digital landscape and foster opportunities for growth, collaborations, and partnerships.
This symposium is organized with generous support from the ERC-funded
DIGISILK
project at King's College London.
Date: Wed-Thu, May 24&25, 2023

Time: 14:00 to 18:30

Panels 1-3 In-Person, Panel 4 Hybrid
Day 1: Hall No.1, Valikhanov Building
Day 2: Hall No.220, Valikhanov Building
On Zoom (Panel 4 & Keynote): Register

Working Language: English
Registration and Participation:
The format of the first three panels is in-person only, and participation is open to all interested parties. If you are interested to join the discussion, write to us
This email address is being protected from spambots. You need JavaScript enabled to view it.
. Registration is not required for the faculty, students, and staff of KIMEP University.
On Day 1, May 24, a select group of academics will engage in in-person presentations and discussions on the themes of Digital Infrastructure and Digital Economy, research methods, and collaboration opportunities.


Panel 1, Digital Infrastructure (2:30-4:00 pm), will feature presentations by:


Prof. Shakhmaran Seilov (Professor at Eurasian National University, former CEO of JSC "Kazakhtelecom", JSC "Kazteleradio"), on
Transit telecommunications potential of Kazakhstan

Mr. Shavkat Sabirov (Director of the Institute for Security Studies and Development in Central Asia), on
National Cybersecurity as a Part of the Digital Sovereignty

Mr. Hugo Estecahandy (PhD Candidate at University of Paris 8, visiting scholar at Nazarbayev University), on
Geopolitics for Bitcoin Mining in Kazakhstan

Ms. Oyuna Baldakova (Research Associate at DIGISILK, Kazakhstan Lead, King's College London), on
Technological Dependencies and Agency of Kazakhstan
Panel 2, Digital Economy (4:30-6:00 pm), will feature presentations by:


Prof. Eldar Madumarov (Chair at the Economics Department, KIMEP University), on
The Rise of the Digital Economy: Trends, Opportunities, and Challenges

Ms. Maiya Suyunchaliyeva (PhD Candidate at Al Farabi University), on
Examining Empathy and Consequences of Customers' Wellbeing (satisfaction) in Unbound Tourism after COVID-19

Mr. Vladimir Popov (Director of KBTU Startup Incubator, Kazakh-British Technical University), on
Students' Startups: Incubation inside of Curriculum rather than Extracurricular

Ms. Gulira Abrayeva (Senior Lecturer at NARXOZ University, PhD Candidate at Turan University), on
Digital Infrastructure and its Impact on the Development of E-commerce
On Day 2, May 25, another in-person academic discussion on International Collaborations will take place, followed by a policy panel on Digital Governance open to the general public in the afternoon in hybrid online/offline mode. A keynote speech by Mr. Yahiya Tuleshov and a reception will close the event.


Panel 3, International Collaborations (2:00-3:30 pm), will feature presentations by:


Prof. Xiaotong Zhang (Professor at the Institute of Belt and Road Initiative and Global Governance, Fudan University), on
Digital Silk Road - a Chinese Perspective

Dr. Albina Muratbekova (Senior Research Fellow at Ahmet Yesevi Kazakh Turkish International University), on
Post-COVID Digital Transformation in the EAEU

Mr. Abbos Bobokhonov (PhD Candidate at the University of World Economy and Diplomacy), on
Cooperation between Central Asia and China under the Framework of the Digital Silk Road: Uzbekistan's Case

Mr Medet Suleimen (Program Officer at Friedrich-Ebert-Stiftung, Almaty), on
EU's Digital Footprint in the Central Asian Region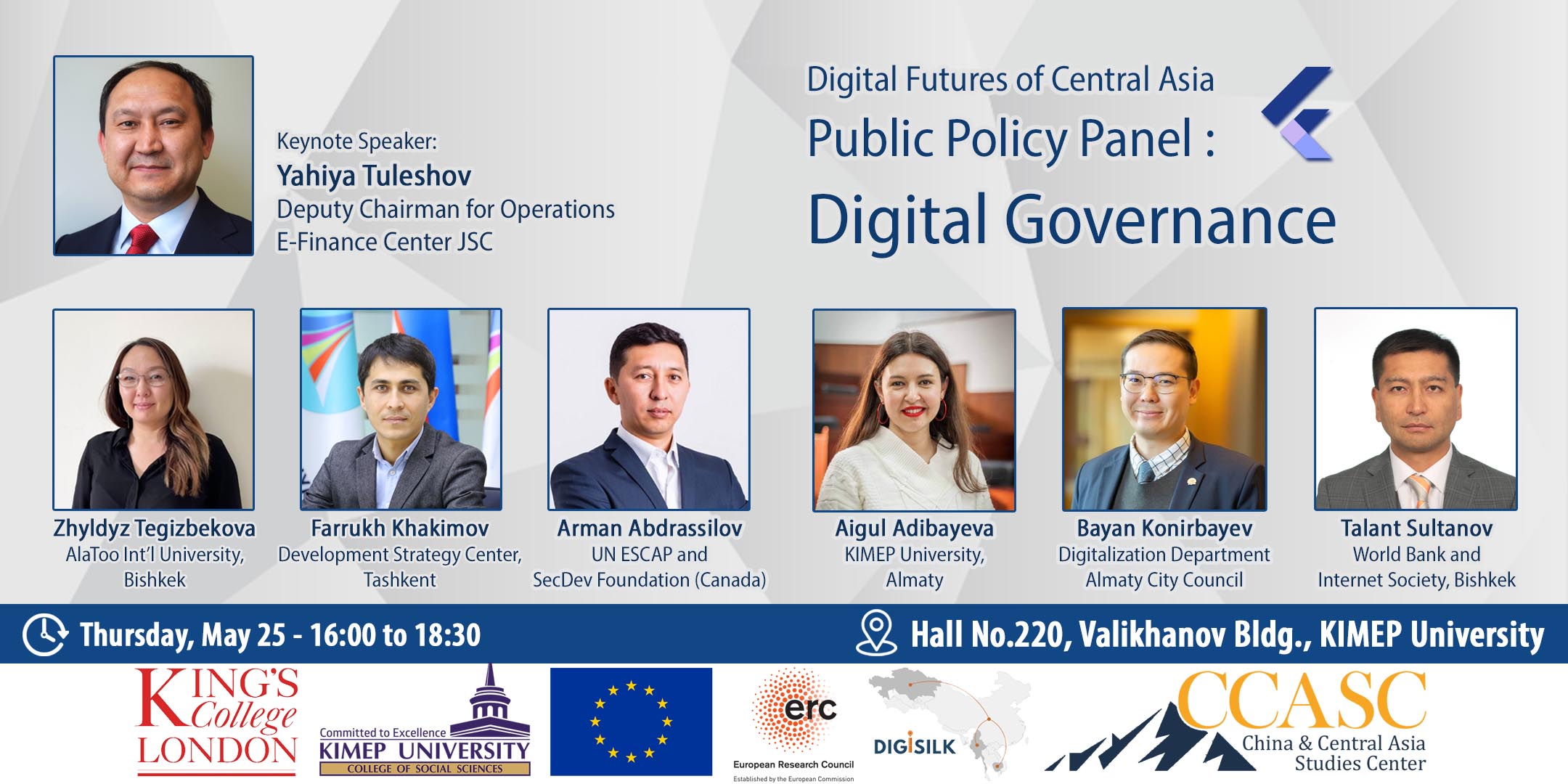 The final panel,
Digital Governance (4:00-5:30 pm)
, is a policy panel open to the general public and will be streamed
online via Zoom
.
The last panel at the Digital Futures of Central Asia includes presentations by:


Mr. Bayan Konirbayev (Chief Digital Officer of Almaty City, Director of the Digitalization Department), on
Digital Government
Mr. Arman Abdrassilov (Bureau Member at United Nations ESCAP, Senior Adviser at The SecDev Foundation), on
Central Asia as a Platform
Mr. Farrukh Khakimov (Head of the Department of Foreign Policy & Security at the Development Strategy Center), on
Digital Government Transformation Dynamics in Central Asian States
Mr. Talant Sultanov (Chair and Co-Founder, Internet Society-Kyrgyz Chapter), on
Closing the Digital Divide in Central Asia
Prof. Zhyldyz Tegizbekova (Professor at Alatoo International University and KAZGUU), on
Data Governance and Personal Data Protection: Case Study of the Kyrgyz Republic
Prof. Aigul Adibayeva (Associate Dean & Professor, KIMEP University), on
E-Government in Kazakhstan: Challenges and Opportunities

Mr. Yahiya Tuleshov, deputy chairman of operations at E-Finance Center JSC, will deliver the closing keynote on
Digitalization in Central Asia; Current and future digitalization challenges in Kazakhstan and the region.


This is a past event. You can watch the video recording on CCASC's YouTube channel:
Not a KIMEP Community member?

Register to join us!
For in-person participation in any of the 4 panels, email your name, affiliation, and the session(s) you would like to join to:
This email address is being protected from spambots. You need JavaScript enabled to view it.
.